Connect computers, monitors, printers, and other devices with DB connections.
RS-232 cords transmit data between a modem and another device, such as a computer.
Parallel and serial printer cords connect a computer to a printer. Parallel cords transmit data faster than serial printer cords.
Shielded cords have foil to prevent signal interference from nearby devices. Use them in settings with low to moderate signal interference, such as labs, storage facilities, and offices.
Double-shielded cords have braid and foil for better protection against signal interference than shielded cords. However, the extra shielding adds diameter and reduces flexibility. They're used in steel mills, machine tool plants, and other heavy processing facilities.
Cords with reversible mounting hardware have removable thumb screws to enable a wider range of mounting options than other cords. Mount them to ports and adapters, as well as directly into panels.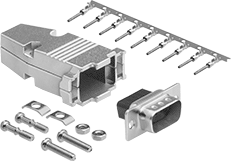 Straight
Assemble DB and HD connectors to replace worn out connectors.
Shielded connectors prevent electromagnetic interference.
Connectors with wire leads come with cable already attached. Each wire lead is a separate color for easy identification and they are labeled with the pin that they are connected to. Those with DB9, DB15, and DB25 connections are RS-232, so they transmit data between computers and equipment. The thumb screws on these connectors have slots so they can be tightened with a screwdriver in tight spaces.
Straight Connectors—Wire Leads Connection
Transmit data between computers and other devices that have different USB sizes or styles. All USB adapters are backward compatible, so they work with cords and connectors that meet the same or a lower USB standard.
For technical drawings and 3-D models, click on a part number.