Mixer Nozzles for
Two-Part

Adhesive Cartridges


Bayonet Connection

Taper Tip
Step Tip

Blunt Tip

Luer Lock Tip


Notched Connection


Threaded Connection

To simultaneously mix and dispense two-part adhesives, attach these mixer nozzles to a dual cartridge. Mixing elements help combine the two parts of an adhesive as it flows through the nozzle. A short nozzle with many mixing elements combines adhesive while minimizing the adhesive left in the nozzle after dispensing. Choose a nozzle that matches the connection type, size, and mix ratio of your adhesive cartridge.
A taper tip has a small opening for controlled dispensing.
A step tip allows you to trim the opening to the diameter you need.
A blunt tip dispenses more adhesive at a time than other nozzles.
Use a luer lock tip with a needle (sold separately) for the most precise dispensing.
Two-Part

Adhesive Dispensing Guns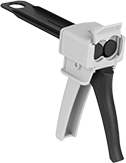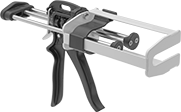 For 6.76-
and
13.5-oz.
Cartridges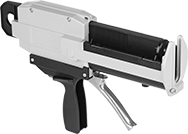 Use these guns to dispense two-part adhesives. Do not use them with 3M dual cartridges.
Caulk Gun Conversion Kits for
Two-Part

Adhesive Cartridges

Adapt a standard caulk gun to dispense two-part adhesives from 1.69-oz. cartridges. Kits contain a sleeve to hold the cartridge and a plunger to dispense the contents. Use with a mixer nozzle (sold separately) to mix and dispense simultaneously.