Metal Pipe and Tube Bevelers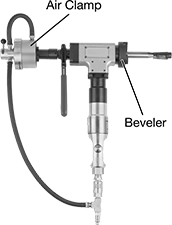 Beveler Shown with Air Clamp
(Sold Separately)
Prepare metal pipe and tubing for welding by giving them smooth, beveled edges with these air-powered bevelers. They have a cutter head that accepts blades (sold separately) with different bevel angles and cutting patterns, and holds them rigidly to reduce vibration and heat, extending the life of the blades. To minimize fatigue and prevent loose parts from falling down the pipe as you bevel, they come with two attached wrenches. Their feed wrench helps you move the tool into the pipe as it bevels by tightening and ratcheting the wrench back-and-forth. Use the clamping wrench to secure your beveler within the ID of the pipe.
Swap out blades to get different bevel angles and replace worn blades. They have a TiN coating that makes them last longer. Use J-bevel blades to prepare the ends of pipe and tube for welding with an orbital welding machine.
Replace the clamping wrench with an air clamp in order to clamp and release your beveler from pipe with the flip of a switch, shortening the time between bevels.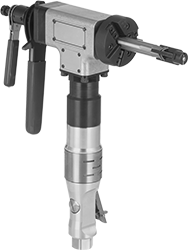 Beveler
Quick-Disconnect


Air Inlet

Power
Source

Max.




Speed,


rpm
For Pipe
Size
Range
For


Dia.

Power,


hp
Airflow
Coupling
Size
Gender
Air
Hose
Included
Mount
Type
Type
Switch
Type

Wd.

Ht.

Dp.

Wt.,




lbs.

Includes
Each

Features a Clamping Wrench and Feed

Wrench—

3 Blades Required

Air
105

3/4

-2

1/2

3/4

"-3"
1
35 cfm @ 90 psi

3/8

Female
Yes
Clamp On
Variable
Lever
2

1/4

"
16

1/2

"
15

1/4

"
15
10-Piece Clamp and Wedge Set, Carrying Case, Cutter Head
0000000
000000000

Blade
For
Use On
For Maximum
Wall Thickness
Bevel
Angle
Blade Material
Each

Straight Bevel

Steel

3/8

"
30°
Titanium Nitride (TiN)-Coated Steel
0000000
000000
Steel

3/8

"
37.5°
Titanium Nitride (TiN)-Coated Steel
0000000
00000
Steel

5/8

"
30°
Titanium Nitride (TiN)-Coated Steel
0000000
00000
Steel

5/8

"
37.5°
Titanium Nitride (TiN)-Coated Steel
0000000
00000
Steel

3/8

"
22°
Titanium Nitride (TiN)-Coated Steel
0000000
00000
Steel

5/8

"
22°
Titanium Nitride (TiN)-Coated Steel
0000000
00000