High-Capacity

Pneumatic Casters with Rubber Wheels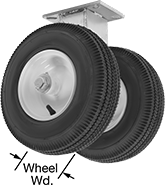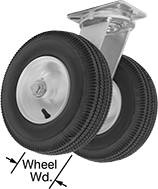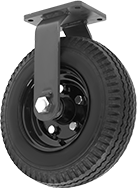 Rigid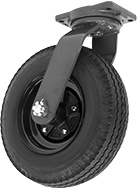 Swivel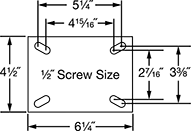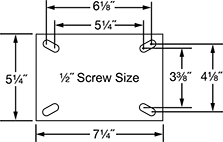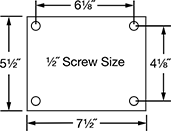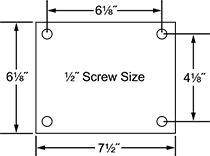 A forged-steel frame and air-filled rubber tire absorbs shock to prevent damage to your load over smooth or rough surfaces.
Dual-wheel casters provide better load distribution and easier turning than single-wheel casters.
Roller wheel bearings provide smooth rolling. Tapered roller wheel bearings withstand impact from both downward and side forces.
Swivel casters with ball/tapered roller bearings are impact resistant and withstand both downward and side force. Swivel casters with double-ball bearings have the smoothest swiveling.
For technical drawings and 3-D models, click on a part number.
Dia.

Wd.

No.


of
Tire
Size
Mount


Ht.

Cap.

per


Caster,




lbs.

Type
Material
Fabrication
Material
Each
Swivel
Bearing
Type
Each

Black Pneumatic

Wheels—

Soft

10"
4

1/8

"
2
4.10/4
13"
700
Roller
Steel
Forged
Zinc-Plated Steel
0000000
0000000
Double Ball
0000000
0000000

Black Pneumatic

Wheels—

Soft

12"
4

1/8

"
2
4.10/6
15

1/2

"
890
Roller
Steel
Forged
Zinc-Plated Steel
0000000
000000
Double Ball
0000000
000000
14"
5

5/16

"
2
5.30/6
17

3/4

"
1,500
Roller
Steel
Forged
Zinc-Plated Steel
0000000
000000
Double Ball
0000000
000000

Black Pneumatic

Wheels—

Soft

16"
4

13/16

"
1
4.80/8
18

3/4

"
1,200
Tapered Roller
Steel
Forged
Painted Steel
00000000
000000
__
000000
00
18"
5

11/16

"
1
5.70/8
21

1/4

"
1,600
Tapered Roller
Steel
Forged
Painted Steel
00000000
000000
__
000000
00

Black Pneumatic

Wheels—

Soft

16"
4

13/16

"
1
4.80/8
18

3/4

"
1,200
Tapered Roller
Steel
Forged
Painted Steel
000000
00
Ball/Tapered Roller
00000000
000000
18"
5

11/16

"
1
5.70/8
21

1/4

"
1,600
Tapered Roller
Steel
Forged
Painted Steel
000000
00
Ball/Tapered Roller
00000000
000000