Vehicle-Mount

Pavement Sweepers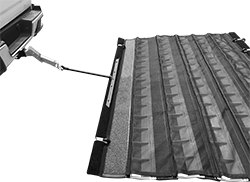 Tow these sweepers behind your vehicle to pick up pebbles, sand, hardware, and other scraps off of roadways. They help you keep small fragments, sometimes called Foreign Object Debris (FOD), from damaging equipment and causing injury. A large mat with bristles underneath sweeps debris off the pavement and into collection troughs, where it's trapped inside the mesh cover. Made from durable nylon, the bristles brush long stretches of pavement without breaking down, whether it's wet or dry. The cover is removable, so it's easy to shake out the debris after sweeping.
These sweepers are not designed to collect soda cans or other large debris, and should not be used for snow removal. They meet Federal Aviation Administration (FAA) specifications for runway sweepers. Roll them up inside the carrying bag to bring them to different locations and to store them when they're not in use.
Sweepers come with a towing adapter to attach them to your hitch. Select the hitch style that matches your vehicle.