Blank Signs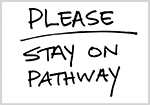 White
Fill in the blank with your own custom warnings, labels, and messages. You can write on these signs with markers, add color with paint, or stick on adhesive-back characters. Many even work with printers.
Plain Back
More than twice as thick as our other blank signs, these are a good option for freestanding signs and displays.
Also known as Alumalite, aluminum signs with a corrugated polypropylene core are lightweight and the most durable signs we offer. Designed for use as permanent signs, they stand up to severe weather without bending or warping. You see them in parking lots and along the side of the road on sign posts identifying buildings and directing visitor traffic. Print on them with a silkscreen or digital printer. They have a polished appearance that lasts for years without cracking or peeling. Customize your sign's shape with a saw, router, or CNC machine. All are UL recognized for use in electrical systems, such as illuminated signs.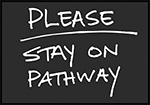 Black
Number of
Usable Sides

Ht.

Wd.

Thick.

Color
Specifications Met

Pkg.




Qty.

1-5

6-Up

Painted Aluminum with Corrugated Polypropylene Plastic Core

2
12"
24"
0.236"
White
UL Recognized Component
1
0000000
000000
000000
2
24"
48"
0.236"
White
UL Recognized Component
1
0000000
00000
00000
2
24"
48"
0.236"
Black
UL Recognized Component
1
0000000
00000
00000
2
48"
96"
0.236"
White
UL Recognized Component
1
0000000
000000
000000