High-Strength

Mold-Quality

Aluminum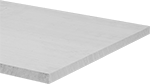 Hardness:

Brinell 150

(Medium)

Fabrication:

Cold Rolled
Designed for use as production injection molds and blow molds, QC-10 and tk Ultra 7 are extremely strong with a hard surface and excellent thermal conductivity.
For technical drawings and 3-D models, click on a part number.

Certificates with a traceable lot number are available for these products. Download certificates from ACTIVITY after your order ships.
Thick.

Thick.

Tolerance
Yield


Strength,

psi
Temper
Heat Treatment

Max.




Temperature,

°F

3"

× 3"

6"

× 6"

1

1/4

"
0.000" to 0.114"
74,000
T6
Hardened, Stress Relieved
275°
0000000
1

1/2

"
0.000" to 0.114"
74,000
T6
Hardened, Stress Relieved
275°
0000000
2"
0.000" to 0.140"
74,000
T6
Hardened, Stress Relieved
275°
0000000
2

1/4

"
0.000" to 0.140"
74,000
T6
Hardened, Stress Relieved
275°
0000000
3"
0.000" to 0.190"
74,000
T6
Hardened, Stress Relieved
275°
0000000