Anchor Type

Anchor Type
Show
Anchor Type

Anchor Type
Hide
System of Measurement

System of Measurement
Shear Strength

Shear Strength
RoHS (Restriction of Hazardous Substances)

RoHS

(Restriction

of
Hazardous

Substances)
DFARS (Defense Acquisition Regulations Supplement)

DFARS

(Defense

Acquisition

Regulations

Supplement)
Pull-Out Strength

Pull-

Out Strength
About Structural Adhesives
Adhesive Anchor Screen Tubes for Hollow Block and Brick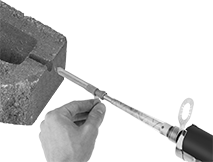 Step
1:
Fill tube with adhesive
(sold separately).

Step
2:
Insert tube into drilled
hole.

Step
3:
Press
tab,
and insert rod into
tube.
Used with adhesive in bricks and hollow blocks, such as cinder blocks, these mesh tubes create a stronger hold for rods and studs than other anchors. To install, first fill tubes with adhesive (sold separately) and press them into a drilled hole. Hold tubes in place by pressing the tab against your block, and insert a rod into them. The rod will push the adhesive out of the mesh screen, forming a plug that keeps the rod in place once the adhesive dries.
For technical drawings and 3-D models, click on a part number.
Adhesive Anchor Screen Tubes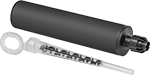 Container


Size,




fl.

oz.

Begins
to
Harden
Reaches
Full
Strength

No.

of

1/2"

Dia.

Rods
Set at

4 1/2"


Installation

Dp.

Ultimate

Pull-Out


Strength


(in 4,000 psi Concrete)

Mix
Ratio
Consistency

Temp.




Range,




°F

Color
Each
9.5
5 min. @ 70° F
45 min.
25 in

9/16

" dia. hole
10,900 lbs.—

3/8

" threaded rod dia. × 3

1/2

" installation dp.
17,100 lbs.—

1/2

" threaded rod dia. × 4

1/2

" installation dp.
26,500 lbs.—

5/8

" threaded rod dia. × 5

5/8

" installation dp.
29,500 lbs.—

3/4

" threaded rod dia. × 6

3/4

" installation dp.
44,500 lbs.—

7/8

" threaded rod dia. × 7

7/8

" installation dp.
48,000 lbs.—1" threaded rod dia. × 9" installation dp.
56,500 lbs.—1

1/4

" threaded rod dia. × 11

1/4

" installation dp.
10:1
Paste
15° to 110°
Gray
0000000
000000