A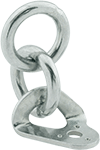 B
Dimples hold the base tight to prevent it from swiveling.
Style B has loose rings that twist to minimize abrasion on webbing and rope.
Zinc-plated steel rings have mild corrosion resistance.
304 stainless steel rings have good corrosion resistance.
316 stainless steel rings have excellent chemical and corrosion resistance, so they won't rust in marine environments.
Warning: Never use for lifting applications.
For technical drawings and 3-D models, click on a part number.
Capacity,




lbs.

Inner


Wd.

Ht.

Thick.

Style

Lg.

Wd.

Material
Mounting
Fasteners
Included

No.


of

Dia.

Each

Zinc-Plated

Steel—

Grade 80

5,600
1

1/4

"
1

1/4

"

1/2

"
Round
2

3/8

"
2"
Zinc-Plated Steel—Grade 80
No
1

3/8

"
00000000
00000

304 Stainless Steel

6,700
1

3/16

"
1

1/4

"

1/2

"
Round
2

3/8

"
1

11/16

"
304 Stainless Steel
No
1

3/8

"
00000000
0000

316 Stainless Steel

5,620
1

1/4

"
1

1/4

"

1/2

"
Round
2

3/8

"
2"
316 Stainless Steel
No
1

3/8

"
00000000
0000

Zinc-Plated

Steel—

Grade 80

5,600
1

1/4

"
3

3/4

"

3/8

"
Round
2

3/8

"
2"
Zinc-Plated Steel—Grade 80
No
1

3/8

"
00000000
00000

316 Stainless Steel

5,620
1

1/4

"
3

1/2

"

3/8

"
Round
2

1/2

"
2"
316 Stainless Steel
No
1

3/8

"
00000000
00000