Reusable Cable Ties
Whether you plan to change the bundle size or need a temporary hold, these ties have a release tab for removal and reuse.
Push-release ties are more difficult to accidentally release. Flip-to-release ties have a tab that flips down to release and flips up to lock.
Wide and extra-wide ties are stronger but less flexible than standard cable ties. Use them for heavy duty applications that require extra strength.
Push Release—Nylon Plastic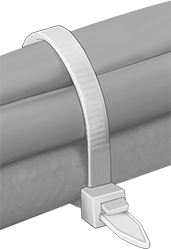 Push Release
Lg.

For

Max.


Bundle

Dia.

Breaking


Strength,




lbs.

Wd.

Thick.

Specifications
Met

Temp.




Range,




°F

Pkg.




Qty.

For
Use
Outdoors

Pkg.

Wide

15

1/2

"
4"
170
0.35"
0.08"
UL 94 V-2
32° to 180°
10
No
0000000
000000

Extra Wide

9"
2

1/8

"
250
0.49"
0.08"
UL 62275 Type 11, UL 94 V-2
32° to 180°
25
No
0000000
00000
22"
5

7/8

"
250
0.49"
0.08"
UL 62275 Type 11, UL 94 V-2
32° to 180°
10
No
0000000
00000

Black

Wide

15

1/2

"
4"
170
0.35"
0.08"
UL 94 V-2
32° to 180°
10
No
000000
00000

Extra Wide

9"
2

1/8

"
250
0.49"
0.08"
UL 62275 Type 11, UL 94 V-2
32° to 180°
25
No
000000
00000
22"
5

7/8

"
250
0.49"
0.08"
UL 62275 Type 11, UL 94 V-2
32° to 180°
10
No
000000
00000
Flip to Release—Nylon Plastic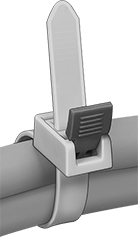 Flip to Release
Lg.

For

Max.


Bundle

Dia.

Breaking


Strength,

lbs.

Wd.

Thick.

Specifications
Met

Temp.




Range,

°F

Pkg.




Qty.

For Use
Outdoors

Pkg.

Extra Wide

29

1/2

"
8

1/4

"
200
0.51"
0.08"
UL 94 V-2
32° to 180°
5
No
0000000
000000