Selecting Clamps Using
Pipe,

Conduit,

or Tubing Trade Size
Strap-Mount

Clamping Hangers
Use these close-fitting hangers for a more rigid hold around material than when using straps alone.
Hangers without strap have a bolt and nut to close the hanger and to mount onto metal strapping (sold separately, see Strap Hangers).
Hangers with strap have a length of rigid strap for convenient installation. A vinyl-coated loop prevents corrosion caused by metal-to-metal contact.
For technical drawings and 3-D models, click on a part number.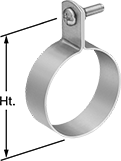 Without Strap
Inch

Metric,


mm
For Pipe
Size

Cap.,




lbs.

Lg.

Wd.

Ht.

Dia.

No.


of
Mounting
Fasteners Included
Each

13/16

"
21

1/2

270

7/8

"

7/8

"
1

5/8

"

1/4

"
1
Yes
0000000
00000
1

1/16

"
27

3/4

270
1

1/16

"

7/8

"
1

13/16

"

1/4

"
1
Yes
0000000
000
1

5/16

"
33
1

270
1

5/16

"

7/8

"
2

1/8

"

1/4

"
1
Yes
0000000
0000
1

11/16

"
43
1

1/4

270
1

11/16

"

7/8

"
2

1/2

"

1/4

"
1
Yes
0000000
0000
1

7/8

"
48
1

1/2

270
1

15/16

"

7/8

"
2

7/8

"

1/4

"
1
Yes
0000000
0000
2

3/8

"
60
2

270
2

3/8

"

7/8

"
3

3/8

"

1/4

"
1
Yes
0000000
0000
2

7/8

"
73
2

1/2

500
2

7/8

"
1

1/4

"
3

7/8

"

1/4

"
1
Yes
0000000
0000
3

1/2

"
89
3

500
3

1/2

"
1

1/4

"
4

7/8

"

1/4

"
1
Yes
0000000
0000
4

1/2

"
114
4

500
4

1/2

"
1

1/4

"
5

7/8

"

1/4

"
1
Yes
0000000
0000
5

9/16

"
141
5

500
5

1/2

"
1

1/4

"
6

15/16

"

1/4

"
1
Yes
0000000
0000
6

5/8

"
168
6

500
6

5/8

"
1

1/4

"
7

15/16

"

1/4

"
1
Yes
0000000
0000
Hangers with Galvanized Steel Strap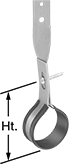 With Strap
Inch

Metric,


mm
For
Pipe
Size

Cap.,




lbs.

Lg.

Wd.

Ht.

Thick.

Wd.

Lg.

Material

Ctr.-to-Ctr.

No.


of


(Dia.)

Temp.




Range,




°F

Features
Each
1

7/8

"
48
1

1/2

150
1

15/16

"
1"
3

3/4

"

1/16

"
1"
12"
Galvanized Steel

7/8

"
5 (

9/32

"), 4 (

7/32

")
-20° to 150°
Black Vinyl-Coated Loop
0000000
00000
2

3/8

"
60
2

150
2

3/8

"
1"
4

1/4

"

1/16

"
1"
12"
Galvanized Steel

7/8

"
5 (

9/32

"), 4 (

7/32

")
-20° to 150°
Black Vinyl-Coated Loop
0000000
0000
3

1/2

"
89
3

150
3

1/2

"
1"
5

1/2

"

1/16

"
1"
12"
Galvanized Steel

7/8

"
5 (

9/32

"), 4 (

7/32

")
-20° to 150°
Black Vinyl-Coated Loop
0000000
0000
4

1/2

"
114
4

150
4

1/2

"
1"
6

1/2

"

1/16

"
1"
12"
Galvanized Steel

7/8

"
5 (

9/32

"), 4 (

7/32

")
-20° to 150°
Black Vinyl-Coated Loop
0000000
0000
6

5/8

"
168
6

150
6

5/8

"
1"
9

1/2

"

1/16

"
1"
12"
Galvanized Steel

7/8

"
5 (

9/32

"), 4 (

7/32

")
-20° to 150°
Black Vinyl-Coated Loop
0000000
00000