Strut Channel Beam Mounts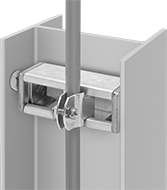 500-
and
800-lb.
Capacity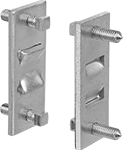 Mount a length of strut channel between the sides of a beam to run cable and conduit along the beam without drilling. Position the mounts at either end of a piece of strut channel that is 1"-1 1/2" shorter than your beam opening. Turn the bolt on the mount to tighten. Studs hold the mounts securely against the beam.
Zinc-plated steel mounts are more corrosion resistant in wet environments than painted steel mounts.
For technical drawings and 3-D models, click on a part number.