Selecting Clamps Using
Pipe,

Conduit,

or Tubing Trade Size
Swivel
Threaded-Rod-Mount

Loop Hangers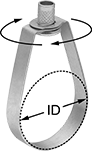 These hangers have a swivel nut for adjusting direction after mounting. They're also known as teardrop hangers. Combine with a threaded rod or other fastener to hang from the ceiling. To mount, screw threaded rod into the threaded hole on top of the hanger. The hanging height can be adjusted after material is installed.
Zinc-plated steel hangers have good corrosion resistance. Copper-plated steel hangers won't corrode copper material. PVC-coated steel hangers reduce wear on material.
For technical drawings and 3-D models, click on a part number.
Inch

Metric,


mm
For
Pipe
Size

For
Thread
Size

Color

Cap.,




lbs.

Lg.

Wd.

Ht.

Thick.

Temp.




Range,




°F

Specifications
Met

Pkg.




Qty.

Pkg.

13/16

"
21

1/2

3/8

"-16

__
400

1/2

"

5/8

"
3"

1/16

"
__
FM Approved
Fed. Spec. WW-H-171E, Type 10
MSS-SP-58-2009, Type 10
UL Listed
10
0000000
000000
1

1/16

"
27

3/4

3/8

"-16

__
400
1

1/8

"

5/8

"
3

1/8

"

1/16

"
__
FM Approved
Fed. Spec. WW-H-171E, Type 10
MSS-SP-58-2009, Type 10
UL Listed
10
0000000
00000
1

5/16

"
33
1

3/8

"-16

__
400
1

7/16

"

5/8

"
3

3/8

"

1/16

"
__
FM Approved
Fed. Spec. WW-H-171E, Type 10
MSS-SP-58-2009, Type 10
UL Listed
10
0000000
00000
1

11/16

"
43
1

1/4

3/8

"-16

__
400
1

13/16

"

5/8

"
3

3/4

"

1/16

"
__
FM Approved
Fed. Spec. WW-H-171E, Type 10
MSS-SP-58-2009, Type 10
UL Listed
10
0000000
00000
1

7/8

"
48
1

1/2

3/8

"-16

__
400
2"

5/8

"
4"

1/16

"
__
FM Approved
Fed. Spec. WW-H-171E, Type 10
MSS-SP-58-2009, Type 10
UL Listed
10
0000000
00000
2

3/8

"
60
2

3/8

"-16

__
400
2

1/2

"

5/8

"
4

5/8

"

1/16

"
__
FM Approved
Fed. Spec. WW-H-171E, Type 10
MSS-SP-58-2009, Type 10
UL Listed
10
0000000
00000
2

7/8

"
73
2

1/2

1/2

"-13

__
600
3"

3/4

"
5

1/2

"

3/32

"
__
FM Approved
Fed. Spec. WW-H-171E, Type 10
MSS-SP-58-2009, Type 10
UL Listed
1
0000000
0000
3

1/2

"
89
3

1/2

"-13

__
600
3

5/8

"

3/4

"
6

3/8

"

3/32

"
__
FM Approved
Fed. Spec. WW-H-171E, Type 10
MSS-SP-58-2009, Type 10
UL Listed
1
0000000
0000
4"
102
3

1/2

1/2

"-13

__
600
4

1/8

"

3/4

"
7"

3/32

"
__
FM Approved
Fed. Spec. WW-H-171E, Type 10
MSS-SP-58-2009, Type 10
UL Listed
1
0000000
00000
4

1/2

"
114
4

5/8

"-11

__
1,000
4

5/8

"

3/4

"
7

1/2

"

3/32

"
__
FM Approved
Fed. Spec. WW-H-171E, Type 10
MSS-SP-58-2009, Type 10
UL Listed
1
0000000
00000
6

5/8

"
168
6

1/2

"-13

__
1,250
6

13/16

"
1

1/8

"
10

1/8

"

1/16

"
__
FM Approved
Fed. Spec. WW-H-171E, Type 10
MSS-SP-58-2009, Type 10
UL Listed
1
0000000
0000

5/8

"
16

1/4

3/8

"-16

__
400

3/4

"

5/8

"
3"

1/16

"
__
Fed. Spec. WW-H-171E, Type 10
MSS-SP-58-2009, Type 10
10
0000000
00000

7/8

"
22

1/2

3/8

"-16

__
400
1"

5/8

"
3"

1/16

"
__
Fed. Spec. WW-H-171E, Type 10
MSS-SP-58-2009, Type 10
10
0000000
00000
1

1/8

"
29

3/4

3/8

"-16

__
400
1

1/4

"

5/8

"
3"

1/16

"
__
Fed. Spec. WW-H-171E, Type 10
MSS-SP-58-2009, Type 10
10
0000000
00000
1

3/8

"
35
1

3/8

"-16

__
400
1

1/2

"

5/8

"
3

1/4

"

1/16

"
__
Fed. Spec. WW-H-171E, Type 10
MSS-SP-58-2009, Type 10
10
0000000
00000
1

5/8

"
41
__

3/8

"-16

__
400
1

3/4

"

5/8

"
3

3/4

"

1/16

"
__
Fed. Spec. WW-H-171E, Type 10
MSS-SP-58-2009, Type 10
10
0000000
00000
2

1/8

"
54
__

3/8

"-16

__
400
2

1/4

"

5/8

"
4

1/8

"

1/16

"
__
Fed. Spec. WW-H-171E, Type 10
MSS-SP-58-2009, Type 10
1
0000000
0000
2

5/8

"
67
__

3/8

"-16

__
600
2

3/4

"

3/4

"
4

3/4

"

1/16

"
__
Fed. Spec. WW-H-171E, Type 10
MSS-SP-58-2009, Type 10
1
0000000
0000
3

1/8

"
79
__

3/8

"-16

__
600
3

5/16

"

3/4

"
5

3/8

"

3/32

"
__
Fed. Spec. WW-H-171E, Type 10
MSS-SP-58-2009, Type 10
1
0000000
0000
4

1/8

"
105
3

1/2

3/8

"-16

__
1,000
4

5/16

"

3/4

"
6

1/4

"

3/32

"
__
Fed. Spec. WW-H-171E, Type 10
MSS-SP-58-2009, Type 10
1
0000000
0000

13/16

"
21

1/2

3/8

"-16

Black
610

15/16

"

5/8

"
2

5/16

"

1/16

"
-30° to 200°
Fed. Spec. WW-H-171E, Type 10
MSS-SP-58-2009, Type 10
1
0000000
0000
1

1/16

"
27

3/4

3/8

"-16

Black
610
1

3/16

"

5/8

"
2

5/8

"

1/16

"
-30° to 200°
Fed. Spec. WW-H-171E, Type 10
MSS-SP-58-2009, Type 10
1
0000000
0000
1

5/16

"
33
1

3/8

"-16

Black
610
1

7/16

"

5/8

"
2

7/8

"

1/16

"
-30° to 200°
Fed. Spec. WW-H-171E, Type 10
MSS-SP-58-2009, Type 10
1
0000000
0000
1

11/16

"
43
1

1/4

3/8

"-16

Black
610
1

13/16

"

5/8

"
3

7/16

"

1/16

"
-30° to 200°
Fed. Spec. WW-H-171E, Type 10
MSS-SP-58-2009, Type 10
1
0000000
0000
1

7/8

"
48
1

1/2

3/8

"-16

Black
610
2"

5/8

"
3

11/16

"

1/16

"
-30° to 200°
Fed. Spec. WW-H-171E, Type 10
MSS-SP-58-2009, Type 10
1
0000000
0000
2

3/8

"
60
2

3/8

"-16

Black
610
2

1/2

"

5/8

"
4

3/16

"

1/8

"
-30° to 200°
Fed. Spec. WW-H-171E, Type 10
MSS-SP-58-2009, Type 10
1
0000000
0000
2

7/8

"
73
2

1/2

1/2

"-13

Black
970
3

1/16

"

3/4

"
5

5/16

"

1/8

"
-30° to 200°
Fed. Spec. WW-H-171E, Type 10
MSS-SP-58-2009, Type 10
1
0000000
0000
3

1/2

"
89
3

1/2

"-13

Black
970
3

11/16

"

3/4

"
6"

1/8

"
-30° to 200°
Fed. Spec. WW-H-171E, Type 10
MSS-SP-58-2009, Type 10
1
0000000
00000
4"
102
3

1/2

1/2

"-13

Black
970
4

3/16

"

3/4

"
6

1/2

"

1/8

"
-30° to 200°
Fed. Spec. WW-H-171E, Type 10
MSS-SP-58-2009, Type 10
1
0000000
00000
4

1/2

"
114
4

5/8

"-11

Black
1,250
4

3/4

"

3/4

"
7

1/8

"

1/8

"
-30° to 200°
Fed. Spec. WW-H-171E, Type 10
MSS-SP-58-2009, Type 10
1
0000000
00000