Wire Rope Compression Sleeve and Thimble
Kits—

Not for Lifting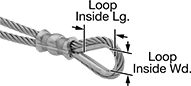 Compression sleeves create a strong permanent loop while the thimbles protect the inside of wire rope loops from fraying.
Zinc-plated steel thimbles are corrosion resistant.
18-8 stainless steel thimbles have excellent corrosion resistance.
Warning: Fittings must match rope diameter and be installed correctly to obtain maximum holding power. Test all assemblies for required strength before use. Do not use with coated rope unless the coating is removed.
For Wire
Rope


Dia.

Inside


Wd.

Inside


Lg.

Number
of

Lg.

Number
of
Thimbles
Required
Number of
Compressions
Capacity
Specifications
Met
Each

Copper Sleeves with

Zinc-Plated

Steel Thimbles

For Steel Rope

3/64

"

11/32

"

11/16

"
2

3/8

"
2
2
90% of the Rope's Capacity
MS51844
0000000
00000

1/16

"

11/32

"

11/16

"
2

3/8

"
2
2
90% of the Rope's Capacity
MS51844
0000000
0000

3/32

"

11/32

"

11/16

"
2

7/16

"
2
2
90% of the Rope's Capacity
MS51844
0000000
0000

1/8

"

11/32

"

23/32

"
2

9/16

"
2
3
90% of the Rope's Capacity
MS51844
0000000
0000

5/32

"

13/32

"

13/16

"
2

5/8

"
2
3
90% of the Rope's Capacity
MS51844
0000000
0000

3/16

"

1/2

"
1"
2
1"
2
4
90% of the Rope's Capacity
MS51844
0000000
0000

1/4

"

11/16

"
1

13/32

"
2
1

1/8

"
2
4
90% of the Rope's Capacity
MS51844
0000000
0000

5/16

"

29/32

"
1

13/16

"
2
1

1/8

"
2
4
90% of the Rope's Capacity
MS51844
0000000
00000

3/8

"
1"
2"
2
1

5/16

"
2
5
90% of the Rope's Capacity
MS51844
0000000
00000

Copper Sleeves with

18-8

Stainless Steel Thimbles

For Stainless Steel Rope

3/64

"

11/32

"

11/16

"
2

3/8

"
2
2
90% of the Rope's Capacity
MS51844
0000000
0000

1/16

"

11/32

"

11/16

"
2

3/8

"
2
2
90% of the Rope's Capacity
MS51844
0000000
0000

3/32

"

11/32

"

11/16

"
2

7/16

"
2
2
90% of the Rope's Capacity
MS51844
0000000
0000

1/8

"

11/32

"

23/32

"
2

9/16

"
2
3
90% of the Rope's Capacity
MS51844
0000000
0000

5/32

"

13/32

"

13/16

"
2

5/8

"
2
3
90% of the Rope's Capacity
MS51844
0000000
0000

3/16

"

1/2

"
1"
2
1"
2
4
90% of the Rope's Capacity
MS51844
0000000
0000

1/4

"

11/16

"
1

13/32

"
2
1

1/8

"
2
4
90% of the Rope's Capacity
MS51844
0000000
00000

5/16

"

29/32

"
1

13/16

"
2
1

1/8

"
2
4
90% of the Rope's Capacity
MS51844
0000000
00000

3/8

"
1"
2"
2
1

5/16

"
2
5
90% of the Rope's Capacity
MS51844
0000000
00000