Wraparound Rope Cleats

A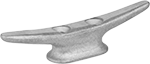 B

C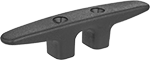 D

E
F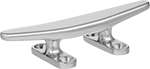 G

H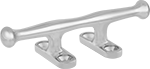 J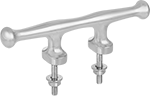 K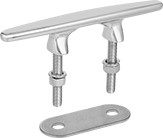 L

M

N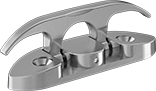 P
Wind rope around these cleats for a secure, temporary hold.
Bolt-on cleats have exposed fasteners that attach directly to the deck or other surface.
Threaded-stud cleats leave no fasteners exposed to collect water and debris.
Weld-on cleats are made of weldable and sandcast aluminum that has better corrosion resistance and durability than standard aluminum. They're good for permanent installations on aluminum surfaces.
Galvanized iron and chrome-plated zinc cleats have mild corrosion resistance.
Aluminum and brass cleats are often used in marine environments.
316 stainless steel cleats have good corrosion resistance.
Style G have a low silhouette to fit in tight spaces without wearing out.
Style M flip up when needed and lay flat when not in use.
Warning: Never use for lifting applications.
For technical drawings and 3-D models, click on a part number.