Protective Cases for Mobile Devices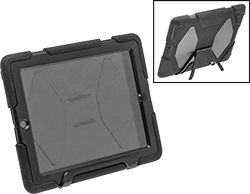 Hard iPad Case with Stand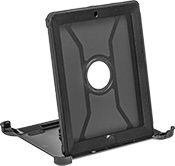 Hard iPad Case with Cover and Stand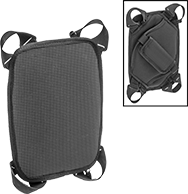 Soft iPad Case
Safeguard your mobile devices from damage.
Hard cases insulate devices from accidental drops and bumps around your facility. Their port covers block out dirt, dust, and lint. For a firm hold even when you're wearing gloves or have dirty hands, they have a nonslip gripping surface. Cases with a cover have a removable solid cover that doubles as a stand.
Soft cases attach with corner loops. They have a padded hand strap for holding your tablet while you work.
For
Use
With
Material
Color
Features
Includes
Each

Hard

iPad Mini 4th Generation Tablets
Plastic
Black
Screen Protector, Stand
__
0000000
000000
iPad 5th Generation Tablets
Plastic
Black
Screen Protector, Stand, Cover
__
0000000
00000

Soft

iPad Tablets
Rubber
Black
Padded Hand Strap
Accessory Pouch, Shoulder Strap
0000000
00000