Heavy Duty Positioning Arms
Heavy duty construction adds strength for higher load capacities than other positioning arms. Choose a complete arm or select a base, connectors, and plate, bracket, or tray to build a complete arm. The load capacity of an assembled arm is determined by the component with the lowest capacity.
For technical drawings and 3-D models, click on a part number.
Counterbalancing Connectors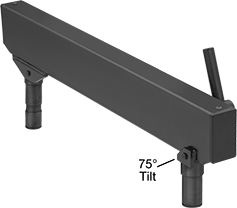 Counterbalancing Connector
Counterbalancing connectors move up and down and are counterbalanced to support the full weight of mounted items as well as absorb torque. If used with a wall-mount pin base, you must also use a rigid connector.
To see the product in motion, click on a part number.