System of Measurement

System of Measurement
Base Mount Type

Base Mount Type
Base Mounting Hole Thread Type

Base Mounting
Hole Thread Type
Base Mounting Thread Size

Base Mounting Thread Size
DFARS (Defense Acquisition Regulations Supplement)

DFARS

(Defense

Acquisition

Regulations

Supplement)
Bend-and-Stay

Positioning Arms
Stronger and with greater load capacities than gooseneck-style positioning arms, these arms keep their shape even when moving or when exposed to vibration. They're often used in robotics and conveyor applications when frequent repositioning isn't required.
All accessories include the necessary hardware for attaching them to arms.
Attach up to five arms to your base with multi-arm adapters.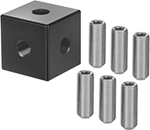 Wd.

Lg.

Thick.

Max.


Load


Cap.,

lbs.

Material
Color
Mount
Type
Mounting
Thread
Size

Mounting
Hole
Thread Type
Includes
Each
1

1/4

"
1

1/4

"
1

1/4

"
5
Anodized Aluminum
Black
Threaded Hole, Threaded Stud

3/8

"-24

UNF

Six

3/8

"-24 Threaded Studs
00000000
000000