System of Measurement

System of Measurement
DFARS (Defense Acquisition Regulations Supplement)

DFARS

(Defense

Acquisition

Regulations

Supplement)

REACH (Registration, Evaluation, Authorization and Restriction of Chemicals)

REACH

(Registration,




Evaluation,

Authorization
and Restriction of

Chemicals)
RoHS (Restriction of Hazardous Substances)

RoHS

(Restriction

of
Hazardous

Substances)
Tilt Range of Motion

Tilt Range of Motion
Adjustability

Adjustability
Heavy Duty
Ball-Grip

Positioning Arms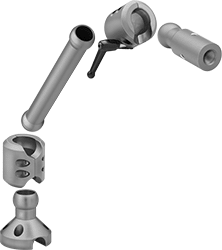 Arm Built
with
Base,
Two Straight
Connectors,
Straight
Link,
Locking
Handle,
and Sensor Mount
With strength for higher load capacities than other ball-grip positioning arms, these arms have a heavy duty construction. Ball-and-socket connections allow 360° positioning. The base, connectors, and links are hollow for routing wires, cables, and small hoses. Select a base, connectors, link, and plate or mount to build a complete arm.
For technical drawings and 3-D models, click on a part number.

Tee connector is designed to work with a tee link to create two branches from one base.
Tilt Range
of Motion

Dia.

ID

Lg.

Max.

Load


Capacity,

lbs.

Material
Color
Each
180°
2"
1"
2

1/2

"
35
Anodized Aluminum
Blue
0000000
000000