Paper Towel Dispensers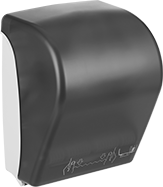 G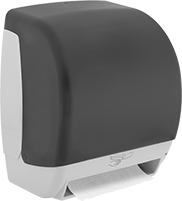 F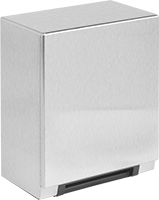 H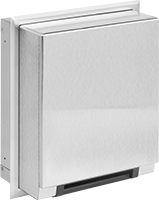 J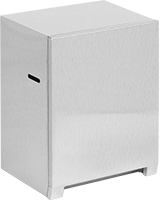 M
Keep paper towels handy for customers and employees.
Touch-free dispensers release a towel when motion is detected. The sheet length is adjustable. Those with LED lights let users know where to wave their hand to activate the release of a towel.
Dispensers that mount on walls are lightweight for easy installation.
Recessed dispensers fit into an opening, so they are flush with the mounting surface.
Style D, E, F, K, P, R, S, and T help you comply with the Americans with Disabilities Act (ADA) when properly installed.
For Continuous Paper Towel Rolls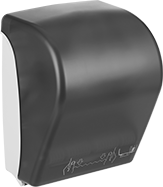 G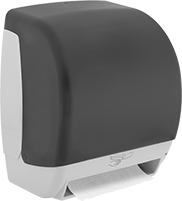 F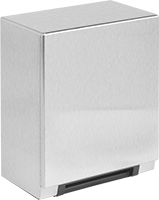 H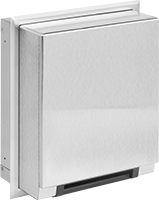 J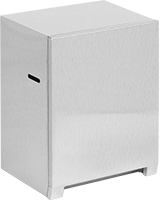 M
Style

Max.




No.


of

Wd.

Max.




Dia.

Ht.

Wd.

Dp.

Material
Style
Location
Features
Each
Each

Pull

G
1
8"
8"
15"
11

7/16

"
9"
Black Plastic
Surface
Wall
__
00000000
000000
0000000
00000
G
1
8"
8"
15"
11

7/16

"
9"
Blue Plastic
Surface
Wall
__
00000000
00000
0000000
0000
G
1
8"
8"
15"
11

7/16

"
9"
Gray Plastic
Surface
Wall
__
00000000
00000
0000000
0000
G
1
8"
8"
15"
11

7/16

"
9"
Red Plastic
Surface
Wall
__
00000000
00000
0000000
0000
G
1
8"
8"
15"
11

7/16

"
9"
White Plastic
Surface
Wall
__
00000000
00000
0000000
0000

Touch Free

F
1
8"
8"
15"
11

1/4

"
9

1/4

"
Black Plastic
Surface
Wall
Key-Locking Cover
00000000
000000
0000000
0000
F
1
8"
8"
15"
11

1/4

"
9

1/4

"
Blue Plastic
Surface
Wall
Key-Locking Cover
00000000
000000
0000000
0000
F
1
8"
8"
15"
11

1/4

"
9

1/4

"
Gray Plastic
Surface
Wall
Key-Locking Cover
0000000
000000
0000000
0000
F
1
8"
8"
15"
11

1/4

"
9

1/4

"
Red Plastic
Surface
Wall
Key-Locking Cover
00000000
000000
0000000
0000
F
1
8"
8"
15"
11

1/4

"
9

1/4

"
White Plastic
Surface
Wall
Key-Locking Cover
00000000
000000
0000000
0000
H
1
8"
8"
18

1/4

"
15

13/16

"
9"
Stainless Steel
Surface
Wall
LED Light
00000000
000000
0000000
0000
J
1
8"
8"
20

1/4

"
17

3/16

"
9

1/8

"
Stainless Steel
Recessed
Wall
LED Light
00000000
000000
0000000
0000
M
1
8"
8"
15"
11

3/4

"
9"
Stainless Steel
Surface
Wall
__
00000000
000000
000000
00