How to

Identify and Measure Fittings
Pipe size is an industry designation, not the actual size. View information about how to measure threaded and unthreaded pipe and pipe fittings.
Metal
Cam-and-Groove

Hose Couplings for Chemicals and Petroleum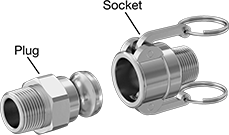 Made of metal, these couplings have better durability than plastic cam-and-groove couplings. A complete coupling consists of a plug and a socket (both sold separately) that allow you to quickly connect and disconnect medium-to large-diameter hose lines. To connect, insert the plug into the socket and press the levers down. The levers fit snugly into the groove on the plug's body and force the plug against the gasket to form a tight seal. To disconnect, lift both levers and pull out the plug. Couplings are compatible with Andrews, Dixon, Ever-Tite, and PT cam-and-groove couplings.
Plugs with socket-connect end are also known as AWS adapters. They are easier to weld than butt-weld fittings because the fitting doesn't need to align perfectly to the pipe. Slide pipe into the socket and weld for a strong, permanent connection.
Aluminum plugs and sockets are lighter in weight than 316 stainless steel plugs and sockets. They have good corrosion resistance. 316 stainless steel plugs and sockets have excellent corrosion resistance.
Note: To ensure a correct fit, make sure that the plug and socket have the same coupling size.
Warning: Relieve all pressure before disconnecting the couplings. Do not use cam-and-groove couplings with compressed air or gas.
For technical drawings and 3-D models, click on a part number.
Straight Plugs, Socket-Connect Pipe

Socket Connect
For Use

With:

Citric

Acid,

Diesel

Fuel,

Gasoline,

Hydraulic Fluid
Maximum

Pressure:

See table
Temperature

Range:

-65° to 250° F

Compatible

With:

Andrews Cam-and-

Groove,

Dixon Cam-and-

Groove,

Ever-Tite Cam-and-

Groove,

PT Coupling Cam-and-Groove
Specifications

Met:

Fed.

Spec.

A-A-59326
Coupling
Size
Plug OD
Pipe
Size

Dash
Size
Socket


Dp.

Max.

Pressure
Each

Aluminum

2
2

1/2

"
2

32

3/8

"
250 psi @ 72° F
000000000
000000
3
3

5/8

"
3

48

3/8

"
200 psi @ 72° F
000000000
00000
4
4

3/4

"
4

64

5/8

"
150 psi @ 72° F
000000000
00000
6
6

15/16

"
6

96

5/8

"
75 psi @ 72° F
000000000
000000

316 Stainless Steel

1

1/2

2

1/8

"
1

1/2

24

13/32

"
250 psi @ 72° F
000000000
00000
2
2

1/2

"
2

32

13/32

"
250 psi @ 72° F
000000000
00000
3
3

5/8

"
3

48

13/32

"
200 psi @ 72° F
000000000
000000
4
4

3/4

"
4

64

19/32

"
150 psi @ 72° F
000000000
000000