High-Precision

Handsaws for Wood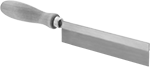 A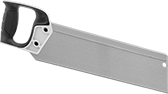 B
A reinforced back keeps the blade straight for better control and more precise cuts. These saws are also known as backsaws.
Style A is also known as a razor saw and has a replaceable, ultra-thin blade with fine teeth for cutting delicate parts. The blade can be reversed to make pull cuts.
Style B has a heavy duty construction with a durable comfort handle for precise cuts such as dovetails in plywood and hardwood. The blade is not replaceable.