Surface-Mount

Baseboard

Small-Space

Electric Heaters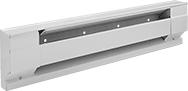 Often installed below windows, the low profile design keeps these heaters out of the way. They use convection to circulate warm air.
The housing has indentations to punch your own mounting holes.
When operating the 208V AC/240V AC heaters at 208 volts AC, maximum area heated and heat output are reduced by 25%.
Heater-mount thermostats are sold separately.
Heat


Output,




Btu/hr.

Max.

Area Heated
@ Temperature
Change
Airflow

Wattage,


W

Current,


A

Ht.

Wd.

Dp.

Material
Color
Each
Each

120V

AC,

Single

Phase—

Wire Leads

1,700
220 cu. ft. @ 10° F
110 cu. ft. @ 20° F
70 cu. ft. @ 30° F
50 cu. ft. @ 40° F
Not Rated
500
4.2
7"
30"
3"
Painted Steel
Beige
0000000
000000
0000000
000000
2,500
330 cu. ft. @ 10° F
170 cu. ft. @ 20° F
110 cu. ft. @ 30° F
80 cu. ft. @ 40° F
Not Rated
750
6.3
7"
36"
3"
Painted Steel
Beige
0000000
00000
0000000
00000
3,400
450 cu. ft. @ 10° F
220 cu. ft. @ 20° F
150 cu. ft. @ 30° F
110 cu. ft. @ 40° F
Not Rated
1,000
8.3
7"
48"
3"
Painted Steel
Beige
0000000
00000
0000000
00000
5,100
680 cu. ft. @ 10° F
340 cu. ft. @ 20° F
220 cu. ft. @ 30° F
170 cu. ft. @ 40° F
Not Rated
1,500
12.5
7"
72"
3"
Painted Steel
Beige
0000000
000000
0000000
00000

208V

AC/240V

AC,

Single

Phase—

Wire Leads

1,700
220 cu. ft. @ 10° F
110 cu. ft. @ 20° F
70 cu. ft. @ 30° F
50 cu. ft. @ 40° F
Not Rated
500
2.1
7"
30"
3"
Painted Steel
Beige
0000000
00000
0000000
00000
2,500
330 cu. ft. @ 10° F
170 cu. ft. @ 20° F
110 cu. ft. @ 30° F
80 cu. ft. @ 40° F
Not Rated
750
3.1
7"
36"
3"
Painted Steel
Beige
0000000
00000
0000000
00000
3,400
450 cu. ft. @ 10° F
220 cu. ft. @ 20° F
150 cu. ft. @ 30° F
110 cu. ft. @ 40° F
Not Rated
1,000
4.2
7"
48"
3"
Painted Steel
Beige
0000000
00000
0000000
00000
4,200
560 cu. ft. @ 10° F
280 cu. ft. @ 20° F
180 cu. ft. @ 30° F
140 cu. ft. @ 40° F
Not Rated
1,250
5.2
7"
60"
3"
Painted Steel
Beige
0000000
000000
0000000
00000
5,100
680 cu. ft. @ 10° F
340 cu. ft. @ 20° F
220 cu. ft. @ 30° F
170 cu. ft. @ 40° F
Not Rated
1,500
6.3
7"
72"
3"
Painted Steel
Beige
0000000
000000
0000000
00000
6,800
900 cu. ft. @ 10° F
450 cu. ft. @ 20° F
300 cu. ft. @ 30° F
220 cu. ft. @ 40° F
Not Rated
2,000
8.3
7"
96"
3"
Painted Steel
Beige
0000000
000000
0000000
00000
8,500
1,130 cu. ft. @ 10° F
560 cu. ft. @ 20° F
370 cu. ft. @ 30° F
280 cu. ft. @ 40° F
Not Rated
2,500
10.4
7"
96"
3"
Painted Steel
Beige
0000000
000000
0000000
00000