Lantern Batteries

Spring Terminal
Power portable lighting such as lanterns, flashlights, and barricade lights. When choosing a battery, use the capacity, measured in milliampere-hours, to compare among similar sizes. The higher the mA-hr. rating, the longer the battery should last.
Long-Life

Lantern Batteries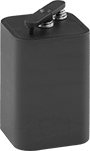 Spring Terminal
Change batteries less often—these last at least twice as long as standard lantern batteries. Use them to power lanterns, barricade lights, and telecommunications devices. Because they are zinc air batteries, they require oxygen to create power. Activate by removing the tape from the holes in the battery case, allowing oxygen to flow inside. They maintain voltage at a constant level, even during power peaks and pulses that can temporarily drain oxygen. Mount in any position with access to air.
Voltage
Battery
Connection Type
Manufacturer
Equivalent Number

Capacity,




mA-hrs.

Ht.

Wd.

Dp.

Each

Zinc Air

6V DC
Spring Terminal
4AS2, EZ8 6/50
45,000
4.3"
2.6"
2.6"
0000000
000000
Sealed
Large-Cell

Batteries for Continuous Use


Spring Terminal

Provide backup power for emergency lights, alarm systems, uninterruptible power supplies (UPS) for computers, and other systems that require power over a long period of time. These dry-cell batteries have an absorbed glass mat (AGM) that soaks up the electrolyte, so they're usable in any position except upside down. They can be recharged hundreds of times.
Warning: Batteries should always be charged and discharged in a ventilated area.
Voltage
Terminal
Location

20-hr.

Rate


Capacity,

amp-hrs.

20-hr.

Discharge


Rate,

mA

Ht.

Wd.

Dp.

Each

Spring Terminal

6V DC
G
5
250
3.9"
2.6"
2.6"
0000000
000000