Ball Transfer Conveyors
Use these ball transfer conveyors alone or add them to High-Capacity Roller Conveyors to rotate and position material along a conveying line.
Note: Capacities are based on an evenly distributed load with a stand at each end. The length and width of the material you're conveying should be at least three times the ball spacing.
For technical drawings and 3-D models, click on a part number.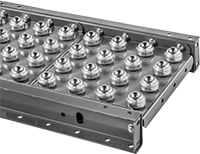 Between
Frame

O'all

Lg.,




ft.

Cap.

per


Ball,

lbs.

Dia.

Projection
Frame

O'all

Features
Each

Steel Ball with

Zinc-Plated

Steel Housing

13"
16"
2
65
1"

1/4

"
3

1/2

"
3

3/4

"
Connecting Plates
0000000
0000000
13"
16"
3
65
1"

1/4

"
3

1/2

"
3

3/4

"
Connecting Plates
0000000
000000
15"
18"
2
65
1"

1/4

"
3

1/2

"
3

3/4

"
Connecting Plates
0000000
000000
15"
18"
3
65
1"

1/4

"
3

1/2

"
3

3/4

"
Connecting Plates
0000000
000000
17"
20"
2
65
1"

1/4

"
3

1/2

"
3

3/4

"
Connecting Plates
000000
000000
17"
20"
3
65
1"

1/4

"
3

1/2

"
3

3/4

"
Connecting Plates
0000000
000000
21"
24"
2
65
1"

1/4

"
3

1/2

"
3

3/4

"
Connecting Plates
0000000
000000
21"
24"
3
65
1"

1/4

"
3

1/2

"
3

3/4

"
Connecting Plates
0000000
000000
27"
30"
2
65
1"

1/4

"
3

1/2

"
3

3/4

"
Connecting Plates
0000000
000000
27"
30"
3
65
1"

1/4

"
3

1/2

"
3

3/4

"
Connecting Plates
0000000
000000
33"
36"
2
65
1"

1/4

"
3

1/2

"
3

3/4

"
Connecting Plates
0000000
000000
33"
36"
3
65
1"

1/4

"
3

1/2

"
3

3/4

"
Connecting Plates
0000000
000000

Steel Ball with

Zinc-Plated

Steel Housing

13"
16"
2
65
1"

1/4

"
3

1/2

"
3

3/4

"
Connecting Plates
000000
000000
13"
16"
3
65
1"

1/4

"
3

1/2

"
3

3/4

"
Connecting Plates
0000000
000000
15"
18"
2
65
1"

1/4

"
3

1/2

"
3

3/4

"
Connecting Plates
000000
000000
15"
18"
3
65
1"

1/4

"
3

1/2

"
3

3/4

"
Connecting Plates
0000000
000000
17"
20"
2
65
1"

1/4

"
3

1/2

"
3

3/4

"
Connecting Plates
000000
000000
17"
20"
3
65
1"

1/4

"
3

1/2

"
3

3/4

"
Connecting Plates
0000000
000000
21"
24"
2
65
1"

1/4

"
3

1/2

"
3

3/4

"
Connecting Plates
000000
000000
21"
24"
3
65
1"

1/4

"
3

1/2

"
3

3/4

"
Connecting Plates
0000000
000000
27"
30"
2
65
1"

1/4

"
3

1/2

"
3

3/4

"
Connecting Plates
000000
000000
27"
30"
3
65
1"

1/4

"
3

1/2

"
3

3/4

"
Connecting Plates
0000000
000000
33"
36"
2
65
1"

1/4

"
3

1/2

"
3

3/4

"
Connecting Plates
000000
000000
33"
36"
3
65
1"

1/4

"
3

1/2

"
3

3/4

"
Connecting Plates
0000000
00000000
| | | | |
| --- | --- | --- | --- |
| Replacement Ball Transfer | 0000000 | Each | 00000 |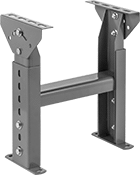 Ht.

Material
Color
Conveyor

Mount.


Fasteners
Included

No.

of
Conveyor


Mount.

Holes

Lg.

Wd.

Floor

Mount.


Fasteners
Included

No.

of Floor


Mount.


Holes

Lg.

Wd.

Each
16"-21"
Powder-Coated Steel
Green
Yes
8

7/8

"

13/32

"
No
4

7/8

"

13/32

"
0000000
000000
20"-25"
Powder-Coated Steel
Green
Yes
8

7/8

"

13/32

"
No
4

7/8

"

13/32

"
0000000
00000
24"-35"
Powder-Coated Steel
Green
Yes
8

7/8

"

13/32

"
No
4

7/8

"

13/32

"
0000000
00000
34"-45"
Powder-Coated Steel
Green
Yes
8

7/8

"

13/32

"
No
4

7/8

"

13/32

"
0000000
000000
16"-21"
Powder-Coated Steel
Green
Yes
8

7/8

"

13/32

"
No
4

7/8

"

13/32

"
0000000
00000
20"-25"
Powder-Coated Steel
Green
Yes
8

7/8

"

13/32

"
No
4

7/8

"

13/32

"
0000000
00000
24"-35"
Powder-Coated Steel
Green
Yes
8

7/8

"

13/32

"
No
4

7/8

"

13/32

"
0000000
00000
34"-45"
Powder-Coated Steel
Green
Yes
8

7/8

"

13/32

"
No
4

7/8

"

13/32

"
0000000
000000
16"-21"
Powder-Coated Steel
Green
Yes
8

7/8

"

13/32

"
No
4

7/8

"

13/32

"
0000000
00000
20"-25"
Powder-Coated Steel
Green
Yes
8

7/8

"

13/32

"
No
4

7/8

"

13/32

"
0000000
00000
24"-35"
Powder-Coated Steel
Green
Yes
8

7/8

"

13/32

"
No
4

7/8

"

13/32

"
0000000
00000
34"-45"
Powder-Coated Steel
Green
Yes
8

7/8

"

13/32

"
No
4

7/8

"

13/32

"
0000000
000000
16"-21"
Powder-Coated Steel
Green
Yes
8

7/8

"

13/32

"
No
4

7/8

"

13/32

"
0000000
00000
20"-25"
Powder-Coated Steel
Green
Yes
8

7/8

"

13/32

"
No
4

7/8

"

13/32

"
0000000
00000
24"-35"
Powder-Coated Steel
Green
Yes
8

7/8

"

13/32

"
No
4

7/8

"

13/32

"
0000000
00000
34"-45"
Powder-Coated Steel
Green
Yes
8

7/8

"

13/32

"
No
4

7/8

"

13/32

"
0000000
000000
16"-21"
Powder-Coated Steel
Green
Yes
8

7/8

"

13/32

"
No
4

7/8

"

13/32

"
0000000
00000
20"-25"
Powder-Coated Steel
Green
Yes
8

7/8

"

13/32

"
No
4

7/8

"

13/32

"
0000000
00000
24"-35"
Powder-Coated Steel
Green
Yes
8

7/8

"

13/32

"
No
4

7/8

"

13/32

"
0000000
00000
34"-45"
Powder-Coated Steel
Green
Yes
8

7/8

"

13/32

"
No
4

7/8

"

13/32

"
0000000
000000
16"-21"
Powder-Coated Steel
Green
Yes
8

7/8

"

13/32

"
No
4

7/8

"

13/32

"
0000000
00000
20"-25"
Powder-Coated Steel
Green
Yes
8

7/8

"

13/32

"
No
4

7/8

"

13/32

"
0000000
00000
24"-35"
Powder-Coated Steel
Green
Yes
8

7/8

"

13/32

"
No
4

7/8

"

13/32

"
0000000
00000
34"-45"
Powder-Coated Steel
Green
Yes
8

7/8

"

13/32

"
No
4

7/8

"

13/32

"
0000000
000000