Ball Transfer Extensions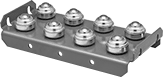 Add length to a ball transfer conveyor with these 6" long extensions or integrate them into a roller conveyor for multidirectional movement. Extensions mount to the axle holes of a roller conveyor once rollers are removed. The length and width of the material you're conveying should be at least three times the ball spacing.
For technical drawings and 3-D models, click on a part number.
Between
Frame

O'all

Lg.

Cap.

per


Ball,




lbs.

Dia.

Projection

Ht.

Material
Color

O'all




Ht.

Mounting
Fasteners
Included

No.

of
Mounting
Holes

Lg.

Wd.

Each

Steel Balls with

Zinc-Plated

Steel Housing

13"
16"
6"
65
1"

1/4

"
3

1/2

"
Powder-Coated Steel
Green
2

1/2

"
No
11

5/8

"

3/8

"
0000000
000000
15"
18"
6"
65
1"

1/4

"
3

1/2

"
Powder-Coated Steel
Green
2

1/2

"
No
10

5/8

"

3/8

"
0000000
00000
17"
20"
6"
65
1"

1/4

"
3

1/2

"
Powder-Coated Steel
Green
2

1/2

"
No
10

5/8

"

3/8

"
0000000
00000
21"
24"
6"
65
1"

1/4

"
3

1/2

"
Powder-Coated Steel
Green
2

1/2

"
No
12

5/8

"

3/8

"
0000000
000000
27"
30"
6"
65
1"

1/4

"
3

1/2

"
Powder-Coated Steel
Green
2

1/2

"
No
12

5/8

"

3/8

"
0000000
000000
33"
36"
6"
65
1"

1/4

"
3

1/2

"
Powder-Coated Steel
Green
2

1/2

"
No
14

5/8

"

3/8

"
0000000
000000
13"
16"
6"
65
1"

1/4

"
3

1/2

"
Powder-Coated Steel
Green
2

1/2

"
No
10

5/8

"

3/8

"
0000000
00000
15"
18"
6"
65
1"

1/4

"
3

1/2

"
Powder-Coated Steel
Green
2

1/2

"
No
11

5/8

"

3/8

"
0000000
00000
17"
20"
6"
65
1"

1/4

"
3

1/2

"
Powder-Coated Steel
Green
2

1/2

"
No
11

5/8

"

3/8

"
0000000
00000
21"
24"
6"
65
1"

1/4

"
3

1/2

"
Powder-Coated Steel
Green
2

1/2

"
No
12

5/8

"

3/8

"
0000000
00000
27"
30"
6"
65
1"

1/4

"
3

1/2

"
Powder-Coated Steel
Green
2

1/2

"
No
12

5/8

"

3/8

"
0000000
00000
33"
36"
6"
65
1"

1/4

"
3

1/2

"
Powder-Coated Steel
Green
2

1/2

"
No
12

5/8

"

3/8

"
0000000
00000