Recessed
Flange-Mount

Ball Transfers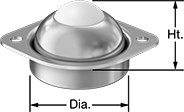 A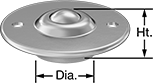 B

C

D
Transfers recess into the mounting surface for a low profile.
Steel balls are durable. 420 stainless steel and 440 stainless steel balls offer the most corrosion resistance. Nylon balls are nonmarking.
Ball transfers with an angled working orientation can be used to form stock stands.
For technical drawings and 3-D models, click on a part number.
Ball


Dia.

Cap.,




lbs.

Ht.

Dp.

Dia.

Working
Orientation

Lg.

Wd.

Dia.

No.

of
Mounting
Holes

Dia.

Ctr.-to-Ctr.

Temperature


Range,




°F

Each

Steel Ball

Zinc-Plated

Steel Housing

A
1"
75

3/4

"

1/2

"
1

3/4

"
Ball Up, Ball Down, Angle
2

1/8

"
2

3/4

"
__
2

7/32

"
2

3/16

"
__
0000000
00000
B

3/4

"
20

13/32

"

15/32

"
1

3/16

"
Ball Up, Ball Down, Angle
__
__
2

13/32

"
2

7/32

"
1

3/4

"
__
0000000
0000
B
1"
55

9/16

"

5/8

"
1

1/2

"
Ball Up, Ball Down, Angle
__
__
2

7/8

"
2

3/16

"
2

3/16

"
__
0000000
0000

Black-Oxide

Steel Housing

C

11/16

"
90

27/32

"

5/32

"

21/32

"
Ball Up, Ball Down, Angle
__
__
1

5/16

"
3

1/8

"

31/32

"
__
0000000
00000
C
1"
135
1

1/8

"

1/8

"

59/64

"
Ball Up, Ball Down, Angle
__
__
1

23/32

"
3

5/32

"
1

9/32

"
__
0000000
00000
C
1

1/8

"
180
1

1/4

"

5/32

"

31/32

"
Ball Up, Ball Down, Angle
__
__
1

13/16

"
3

5/32

"
1

11/32

"
__
0000000
00000
C
1

1/4

"
225
1

3/8

"

1/8

"
1

1/16

"
Ball Up, Ball Down, Angle
__
__
2"
3

5/32

"
1

15/32

"
__
0000000
00000
D

11/16

"
90

27/32

"

5/32

"

21/32

"
Ball Up, Ball Down, Angle
1

15/64

"

31/32

"
__
4

1/8

"

11/16

",

31/32

"
__
0000000
00000
D
1"
135
1

1/8

"

1/8

"

59/64

"
Ball Up, Ball Down, Angle
1

3/4

"
1

3/8

"
__
4

5/32

"
1", 1

3/8

"
__
0000000
00000
D
1

1/8

"
180
1

1/4

"

5/32

"

31/32

"
Ball Up, Ball Down, Angle
1

3/4

"
1

3/8

"
__
4

5/32

"
1", 1

3/8

"
__
0000000
00000

Steel Housing

B

5/8

"
40

3/8

"

3/8

"

31/32

"
Ball Up, Ball Down, Angle
__
__
1

11/16

"
2

1/8

"
1

1/4

"
__
0000000
0000

Nylon Plastic Ball

Zinc-Plated

Steel Housing

A
1"
75

3/4

"

1/2

"
1

3/4

"
Ball Up, Ball Down, Angle
2

1/8

"
2

3/4

"
__
2

7/32

"
2

3/16

"
32° to 195°
0000000
00000

440 Stainless Steel Ball

Zinc-Plated

Steel Housing

A
1"
75

3/4

"

1/2

"
1

3/4

"
Ball Up, Ball Down, Angle
2

1/8

"
2

3/4

"
__
2

7/32

"
2

3/16

"
Not Rated to 400°
0000000
00000

Stainless Steel Housing

A
1"
75

3/4

"

1/2

"
1

3/4

"
Ball Up, Ball Down, Angle
2

1/8

"
2

3/4

"
__
2

7/32

"
2

3/16

"
Not Rated to 400°
0000000
00000

420 Stainless Steel Ball

Stainless Steel Housing

B

3/4

"
20

13/32

"

15/32

"
1

3/16

"
Ball Up, Ball Down, Angle
__
__
2

13/32

"
2

7/32

"
1

3/4

"
-22° to 128°
0000000
00000
B
1"
20

9/16

"

5/8

"
1

1/2

"
Ball Up, Ball Down, Angle
__
__
2

7/8

"
2

3/16

"
2

3/16

"
-22° to 128°
0000000
00000