Horizontal-Mount

Quiet-Ride

Ball Bearing Carriages and Guide Rails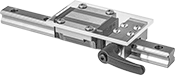 Hand Brake Shown Installed
Designed for use on horizontal surfaces, the contact angle of the ball bearings on the rail allows these carriages to last longer than other carriages. The ball bearings provide accurate movement and positioning at high speeds under heavy loads. A plastic cage separates the ball bearings to minimize noise, reduce heat buildup, and eliminate ball collisions. End seals keep lubricant in and dirt out.
For made-to-order guide rails, please specify the length of the rail (in 1 mm increments). The mounting holes will be centered along the rail.
Add a hand brake to lock carriages in position. To install, fasten the brake to the same mounting surface as your carriage.
Mounting hole plugs protect mounting fasteners from corrosion.
For technical drawings and 3-D models, click on a part number.
Standard Carriages and Guide Rails

Carriage

Load Fastening from Top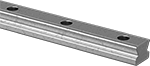 Guide Rail

Hand Brake
Made-to-Order


Steel Guide Rails

For Rail


Wd.,


mm
Dynamic
Load


Cap.,

lbs.

O'all




Ht.,


mm
Carriage


Wd.,


mm
Carriage


Lg.,


mm
Each
Rail


Lengths,


mm
Per
mm
Rail


Lengths,


mm
Per
mm
Each
Each

Load Fastening From Top

15
3,300
24
34
57
0000000
0000000
000000
00000
160-1,600
0000000
00000
000000
0000000
000000
00000
20
4,400
28
42
67
0000000
000000
000000
000
220-2,500
0000000
000
000000
000000
000000
0000
23
7,050
33
48
83
0000000
000000
000000
000
220-2,500
0000000
000
0000000
000000
000000
00
28
10,450
42
60
97
0000000
000000
000000
000
280-2,500
0000000
000
0000000
000000
000000
0000
34
14,500
48
70
111
0000000
000000
000000
000
280-2,500
0000000
000
0000000
000000
000000
0000