Locking
Extra-Wide

Sleeve Bearing Carriages and Guide Rails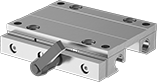 Aluminum Carriage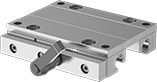 Zinc Carriage

Guide Rail
A handle on the side of the carriage locks the carriage in place. Carriages have a wide base for stabilizing moment (twisting) and off-center loads better than standard sleeve bearing carriages. Use them in areas where multiple carriages or rails won't fit. The sleeve bearings allow them to outperform ball bearings in wet, dirty, and high-vibration environments. Mount in any orientation without affecting load capacity.
Aluminum carriages conduct and dissipate the heat produced by friction, protecting your machinery. They are more corrosion resistant than zinc carriages.
Zinc carriages are mildly corrosion resistant.
For technical drawings and 3-D models, click on a part number.