Oil-Embedded

Sleeve Bearings

Startup friction causes these porous bronze bearings to release a thin layer of oil on the bearing's surface. They are also known as Oilite® bearings.
Note: Dynamic load capacity is the maximum load a bearing can withstand at a given shaft speed. If your application's load and speed requirements are below the values listed, the bearing will work.
For technical drawings and 3-D models, click on a part number.
Wheel Bearings
Replace worn or damaged wheel bearings to keep your equipment rolling. Use flanged bearings and ball bearings in pairs. Change the axle diameter with wheel reducer bushings (sold separately).
Note: Not for use in towing applications.
For impact-resistant tapered roller bearings, as well as other bearing materials and sizes, please see Ball and Roller Bearings and Sleeve Bearings.
Acetal bearings are a good choice for washdown and dusty environments.
Plain bearings prevent wear to the wheel bore.
Retaining washers hold roller bearings in place.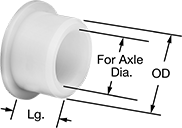 Flanged Plain Bearing
Press-Fit

Drill Bushings with Head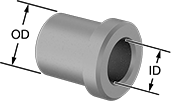 The head prevents these bushings from being pushed through the jig when drilling pressure is extreme. The head sits above the jig plate or can be mounted flush by installing in a counterbored hole. Drill bushings can also be used as spacers, shims, and machinery bushings.
Don't see the size you need? Additional sizes are available.
For technical drawings and 3-D models, click on a part number.
OD

Lg.

For
Drill
Bit Size
OD

Thick.

ID
OD

Lg.

Drill
Bushing
Type
Material
Hardness

1-5

6-11

12-Up

1

3/4

"

13/16

"
1

3/8

"
1

7/8

"

3/16

"
0.0002" to 0.001"
0.0018" to 0.0023"
-0.01" to 0.01"
HL
Steel
Rockwell C61
000000000
000000
000000
000000