Selecting Compatible Lead Screws and Nuts
Light Duty
Dry-Running

Flanged Sleeve Bearings

Use where high loads and speeds are not required.
Thermoplastic-blend bearings have low moisture absorption and create very low friction in applications with light loads, and frequent starts and stops.
Note: Dynamic load capacity is the maximum load a bearing can withstand at a given shaft speed. If your application's load and speed requirements are below the values listed, the bearing will work.
For technical drawings and 3-D models, click on a part number.
For
Housing ID

Lg.

Flange
OD
Flange


Thick.

Dynamic Radial
Load Capacity
Dynamic Thrust
Load Capacity
Color
Temperature


Range,

°F

Each

Thermoplastic-Blend

Bearings

28mm
14.5mm
35mm
1.5mm
350 lbs. @ 60 rpm
320 lbs. @ 60 rpm
Yellow
-50° to 190°
00000000
00000
Metric Precision Ball Screws and Nuts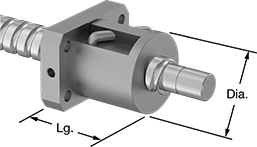 Precision cut threads make these metric ball screws approximately four times more accurate than standard ball screws. Use them when exact positioning is essential. They come with finished ends and the nut already on, so they're ready to use right away. The ball nuts have a flange design that makes it easy to mount objects on them. Inside, they have ball bearings to produce smooth, low-friction travel for applications that require high-speed and repeatable movement.
Root diameter indicates the diameter the ball screw will be after machining away the threads.
Travel distance per turn, also known as screw lead, is the distance a ball nut moves with one revolution of the ball screw.
For technical drawings and 3-D models, click on a part number.
Thread
Size

Lg.,


mm
Root


Dia.,


mm

Lg.,


mm

Dia.,


mm

No.

of
Thread
Starts
Travel
Distance
per

Turn,

mm
Accuracy for
Travel
Distance per Turn
Hardness
Dynamic
Thrust Load


Cap.,

lbs.

Max.




Backlash,


mm

Temp.




Range,




°F

Each

Carbon Steel Ball Screw with Alloy Steel Flange Ball Nut

M6

100
5.3
14.5
10
1
1
±0.023 mm per 300 mm
Rockwell C58
120
0
Not Rated to 175°
00000000
0000000
M6

130
5.3
14.5
10
1
1
±0.023 mm per 300 mm
Rockwell C58
120
0
Not Rated to 175°
00000000
000000
M6

160
5.3
14.5
10
1
1
±0.023 mm per 300 mm
Rockwell C58
120
0
Not Rated to 175°
00000000
000000