About Ball and Roller Bearings
Selecting Compatible Lead Screws and Nuts
Mounted Ball Bearings
Bearings are self-aligning to compensate for shaft misalignment. Seals block out dust and contaminants.
Bearings with eccentric lock have a collar that you twist in one direction to grip and the other to release. Compared to bearings with a set screw, they're easier to install, require less adjustment over time, and are better for high-speed applications. But, they only work on shafts that spin in one direction.
For technical drawings and 3-D models, click on a part number.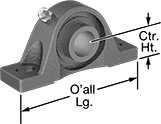 With Eccentric Lock
For
Shaft


Dia.

Center


Ht.

Ht.

Lg.

Wd.

Hole


Lg.

Hole


Wd.

Hole


Ctr.-to-Ctr.

Dynamic
Static

Max.




Speed,


rpm

Temp.




Range,




°F

Alignment
Style
Lubrication
Each

Sealed Steel Bearings with Cast Iron Housing

Shaft Mount

Type:

Eccentric Lock

40mm
49.2mm
99mm
175mm
58.9mm
24.5mm
14mm
135.5mm
6,900
4,250
4,800
-20° to 210°
Self Aligning
Lubricated
00000000
0000000
High-Load

Mounted Linear Ball Bearings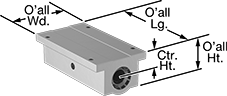 Designed to handle heavy loads, these bearings have the highest load capacities of any mounted linear ball bearings we offer. They are for use with round end-supported shafts. End seals keep lubricant in and dirt out.
Use fixed-alignment bearings where shaft misalignment is unlikely.
For technical drawings and 3-D models, click on a part number.
For Shaft


Dia.,

mm

Lg.

Wd.

Ht.

Center


Ht.,

mm
Dynamic Load


Capacity,

lbs.

Max.




Temperature,

°F

For Shaft Material

No.


of

Dia.,


mm
Each

Acetal Bearings with Steel Balls in 6061 Aluminum Housing

40
175
102
75
40
6,150
185°
Steel, Stainless Steel
4
8.7
0000000
0000000
Metric
Fast-Travel

Ultra-Precision

Lead Screws and Nuts

Multiple thread channels (also known as thread starts) create faster linear travel than lead screws with a single thread start. Operating with less backlash (play) than Metric Precision Acme Lead Screws and Nuts, these lead screws and nuts provide increased nut life and more reliable movement in automated systems. To ensure compatibility, select components that have the same thread type, thread size, thread pitch, and number of thread starts.
Alloy steel lead screws are hard and strong.
Travel distance per turn, also known as screw lead, is the distance a nut moves with one revolution of the lead screw.
For technical drawings and 3-D models, click on a part number.
Lead Screws—Right-Hand Threaded

Thread
Size

Thread


Pitch,


mm

Lg.,


mm

No.

of
Thread
Starts
Thread
Type
Speed
Ratio
Travel
Distance
per

Turn,

mm
Accuracy for
Travel
Distance per Turn
Hardness
Tensile


Strength,


psi
Each

4140 Alloy Steel

M5

1.25
175
4
Metric Rounded Trapezoidal
4:1
5
±0.089 mm per 300 mm
Brinell 200
125,000
000000000
000000