About Ball and Roller Bearings
Mounted Ball Bearings
Bearings are self-aligning to compensate for shaft misalignment. Seals block out dust and contaminants.
Bearings with eccentric lock have a collar that you twist in one direction to grip and the other to release. Compared to bearings with a set screw, they're easier to install, require less adjustment over time, and are better for high-speed applications. But, they only work on shafts that spin in one direction.
For technical drawings and 3-D models, click on a part number.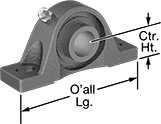 With Eccentric Lock
For
Shaft


Dia.

Center


Ht.

Ht.

Lg.

Wd.

Hole


Lg.

Hole


Wd.

Hole


Ctr.-to-Ctr.

Dynamic
Static

Max.




Speed,


rpm

Temp.




Range,




°F

Alignment
Style
Lubrication
Each

Sealed Steel Bearings with Cast Iron Housing

Shaft Mount

Type:

Eccentric Lock

45mm
54mm
107.5mm
187mm
56.7mm
22.5mm
14mm
143.5mm
7,450
4,850
4,300
-20° to 210°
Self Aligning
Lubricated
00000000
0000000