About Ball and Roller Bearings
Mounted Ball Bearings
Bearings are self-aligning to compensate for shaft misalignment. Seals block out dust and contaminants.
Bearings with eccentric lock have a collar that you twist in one direction to grip and the other to release. Compared to bearings with a set screw, they're easier to install, require less adjustment over time, and are better for high-speed applications. But, they only work on shafts that spin in one direction.
Bearing with concentric lock use adapter sleeves (sold separately) to lock onto shafts in a way that enables high running speeds with little vibration. They work for applications that require reversing because they allow shafts to rotate in both directions.
For technical drawings and 3-D models, click on a part number.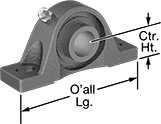 With Eccentric Lock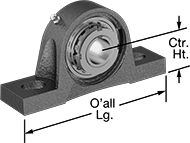 With Concentric Lock
For
Shaft


Dia.

Center


Ht.

Ht.

Lg.

Wd.

Hole


Lg.

Hole


Wd.

Hole


Ctr.-to-Ctr.

Dynamic
Static

Max.




Speed,


rpm

Temp.




Range,




°F

Alignment
Style
Lubrication
Each

Sealed Steel Bearings with Cast Iron Housing

Shaft Mount

Type:

Eccentric Lock

55mm
63.5mm
126mm
219mm
66.4mm
27.5mm
18mm
171.5mm
9,800
6,500
3,600
-20° to 210°
Self Aligning
Lubricated
00000000
0000000
55mm
63.5mm
126mm
219mm
73.6mm
27.5mm
18mm
171.5mm
9,800
6,500
3,600
-20° to 210°
Self Aligning
Lubricated
00000000
000000

Shaft Mount

Type:

Concentric Lock

50mm
63.5mm
126mm
219mm
62.5mm
27.5mm
20mm
171.5mm
9,800
6,500
3,600
-20° to 210°
Self Aligning
Lubricated
00000000
000000
Adapter Sleeves for Bearings with Concentric Lock

Adapter Sleeve
For Shaft


Diameter,

mm

ID,


mm

Width,


mm
Includes
Each

1137 Carbon Steel Sleeves

50
50
59
Lock Nut, Lock Washer
00000000
000000