Selecting Compatible Lead Screws and Nuts
Metric Ball Screws and Nuts

Internal ball bearings provide smooth low-friction travel in applications that require high speeds, accurate positioning, and repeatable movement. Also known as single-start ball screws and nuts, these have a single thread that runs the length of the screw. They operate with more torque than fast-travel ball screws and nuts. To ensure compatibility, select components that have the same thread size and travel distance per turn. Ball nuts are furnished with a tube to keep ball bearings in place. Do not remove the tube until you are ready to install the nuts onto the screws.
Travel distance per turn, also known as screw lead, is the distance a ball nut moves with one revolution of the ball screw.
For technical drawings and 3-D models, click on a part number.
Ball Screws with Flange Ball Nut—Right-Hand Threaded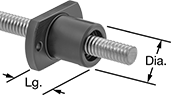 Root diameter indicates the diameter the ball screw will be after machining away the threads.
Thread
Size

Lg.,


mm
Root


Dia.,


mm
Tensile


Strength,


psi

Lg.,


mm

Dia.,


mm

No.

of
Thread
Starts
Travel
Distance
per

Turn,

mm
Accuracy for
Travel
Distance per Turn
Hardness
Dynamic
Thrust
Load

Cap.,

lbs.

Max.




Backlash,


mm
Temperature


Range,




°F

Each

Carbon Steel Ball Screw with Alloy Steel Flange Ball Nut

M6

150
5.3
21,000
21
13
1
1
±0.210 mm per 300 mm
Rockwell C58
150
0.05
5° to 175°
0000000
0000000
M6

250
5.3
21,000
21
13
1
1
±0.210 mm per 300 mm
Rockwell C58
150
0.05
5° to 175°
000000
000000
Metric
Press-Fit

Drill Bushings with Head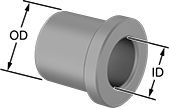 Shown in Countersunk Hole

Shown in Standard Hole
Even under extreme drilling pressure, these metric bushings won't press through your jig plate. A flanged head on the top of the bushing acts as a stop, preventing it from moving as you push down your drill bit, reamer, or other cutting bit. Drill bushings ensure accurate, consistent cuts and drilled holes from one part to the next. They sometimes also work as spacers, shims, and machinery bushings. Made of hardened, ground steel, these bushings hold their shape and resist wear over time. The flanged head protects your jig plate from damage caused by heavy use.
Although it's no longer an active standard, DIN 172 is still a common reference point for making sure parts are compatible with other parts and tools.
These bushings work in both countersunk and standard drill holes. To install, place the bushing inside the hole in your jig. A chamfered edge on the bottom of the bushing helps center the bushing in the hole. Once centered, press the bushing into the hole with a hydraulic or lever press.
For technical drawings and 3-D models, click on a part number.
OD,


mm

Lg.,


mm

OD,


mm

Thick.,


mm

ID,


mm

OD,


mm

Lg.,


mm
Drill
Bushing
Type
Material
Hardness
Specifications
Met

1-5

6-11

12-Up

18
21
22
4
0.016 to 0.034
0.012 to 0.023
-0.2 to 0.2
H
Steel
Rockwell C61
DIN 172
000000000
000000
000000
000000
18
21
22
4
0.016 to 0.034
0.012 to 0.023
-0.2 to 0.2
H
Steel
Rockwell C61
DIN 172
000000000
00000
00000
00000
18
21
22
4
0.016 to 0.034
0.012 to 0.023
-0.2 to 0.2
H
Steel
Rockwell C61
DIN 172
000000000
00000
00000
00000
18
21
22
4
0.016 to 0.034
0.012 to 0.023
-0.2 to 0.2
H
Steel
Rockwell C61
DIN 172
000000000
00000
00000
00000
18
21
22
4
0.016 to 0.034
0.012 to 0.023
-0.2 to 0.2
H
Steel
Rockwell C61
DIN 172
000000000
00000
00000
00000
18
21
22
4
0.016 to 0.034
0.012 to 0.023
-0.2 to 0.2
H
Steel
Rockwell C61
DIN 172
000000000
00000
00000
00000
18
21
22
4
0.016 to 0.034
0.012 to 0.023
-0.2 to 0.2
H
Steel
Rockwell C61
DIN 172
000000000
00000
00000
00000
18
21
22
4
0.016 to 0.034
0.012 to 0.023
-0.2 to 0.2
H
Steel
Rockwell C61
DIN 172
000000000
00000
00000
00000
18
21
22
4
0.016 to 0.034
0.012 to 0.023
-0.2 to 0.2
H
Steel
Rockwell C61
DIN 172
000000000
00000
00000
00000

11 mm ID

18
21
22
4
0.016 to 0.034
0.012 to 0.023
-0.2 to 0.2
H
Steel
Rockwell C61
DIN 172
000000000
00000
00000
00000
18
21
22
4
0.016 to 0.034
0.012 to 0.023
-0.2 to 0.2
H
Steel
Rockwell C61
DIN 172
000000000
00000
00000
00000
18
21
22
4
0.016 to 0.034
0.012 to 0.023
-0.2 to 0.2
H
Steel
Rockwell C61
DIN 172
000000000
00000
00000
00000
18
21
22
4
0.016 to 0.034
0.012 to 0.023
-0.2 to 0.2
H
Steel
Rockwell C61
DIN 172
000000000
00000
00000
00000
18
21
22
4
0.016 to 0.034
0.012 to 0.023
-0.2 to 0.2
H
Steel
Rockwell C61
DIN 172
000000000
00000
00000
00000
18
21
22
4
0.016 to 0.034
0.012 to 0.023
-0.2 to 0.2
H
Steel
Rockwell C61
DIN 172
000000000
00000
00000
00000
18
21
22
4
0.016 to 0.034
0.012 to 0.023
-0.2 to 0.2
H
Steel
Rockwell C61
DIN 172
000000000
00000
00000
00000
18
21
22
4
0.016 to 0.034
0.012 to 0.023
-0.2 to 0.2
H
Steel
Rockwell C61
DIN 172
000000000
00000
00000
00000
18
21
22
4
0.016 to 0.034
0.012 to 0.023
-0.2 to 0.2
H
Steel
Rockwell C61
DIN 172
000000000
00000
00000
00000
18
21
22
4
0.016 to 0.034
0.012 to 0.023
-0.2 to 0.2
H
Steel
Rockwell C61
DIN 172
000000000
00000
00000
00000

12 mm ID

18
21
22
4
0.016 to 0.034
0.012 to 0.023
-0.2 to 0.2
H
Steel
Rockwell C61
DIN 172
000000000
00000
00000
00000