Motor-Mount

Positioning Slides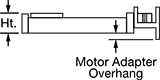 Connect to an electric motor with the included NEMA mounting flange. Slides have a precision lead screw, ball bearing carriage, and shaft coupling already installed.
Travel distance per turn, also known as screw lead, is the distance a load moves with one revolution of the lead screw.
Note: Capacities listed are for horizontal mounting. When mounted vertically, the load capacity is cut in half.
For technical drawings and 3-D models, click on a part number.
Travel


Lg.,


mm
Dynamic
Load


Cap.,

lbs.

Ht.,


mm

Wd.

Lg.

Wd.

Lg.

Wd.

Ht.

Overhang
For
Shaft


Dia.

Max.


Speed

Max.




Temp.,




°F

No.


of
Holes
Hole
Thread
Size

No.


of
Holes
For
Fastener
Thread Size

Mounting
Fasteners
Included
Travel
Distance
per Turn
Each

Aluminum Carriage and

Base—

For NEMA 23 Motor Frame

303 Stainless Steel Lead Screw

100
30
33
60
256
60
60
57
57
8
0.25"
2,000 rpm
180°
4
M5

4
M5

No
0.125"
0000000
000000000
100
30
33
60
256
60
60
57
57
8
0.25"
2,000 rpm
180°
4
M5

4
M5

No
0.5"
0000000
00000000