Food Industry
Dry-Running

Flanged Sleeve Bearings

Made of FDA listed materials for use in food applications, these bearings also withstand caustic and washdown environments.
Acetal bearings are FDA compliant for direct contact with food. They're commonly used on machines in food plants and manufacturing plants for packaging and healthcare equipment. These bearings are bright blue, so they're easy to spot in your line in case of breakage.
Note: Dynamic load capacity is the maximum load a bearing can withstand at a given shaft speed. If your application's load and speed requirements are below the values listed, the bearing will work.
For technical drawings and 3-D models, click on a part number.
For
Housing
ID

Lg.

Flange
OD
Flange


Thick.

Dynamic
Radial
Load Capacity
Dynamic
Thrust
Load Capacity
Color
Temperature


Range,




°F

Specifications
Met
Each

Acetal Plastic Bearings

10mm
5.5mm
15mm
1mm
60 lbs. @ 120 rpm
85 lbs. @ 120 rpm
Blue
-50° to 190°
FDA Compliant 21 CFR 177.1520,

FDA Compliant 21 CFR 177.1550,

FDA Compliant 21 CFR 178.3297

000000000
00000
Metric
Press-Fit

Drill Bushings with Head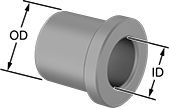 Shown in Countersunk Hole

Shown in Standard Hole
Even under extreme drilling pressure, these metric bushings won't press through your jig plate. A flanged head on the top of the bushing acts as a stop, preventing it from moving as you push down your drill bit, reamer, or other cutting bit. Drill bushings ensure accurate, consistent cuts and drilled holes from one part to the next. They sometimes also work as spacers, shims, and machinery bushings. Made of hardened, ground steel, these bushings hold their shape and resist wear over time. The flanged head protects your jig plate from damage caused by heavy use.
Although it's no longer an active standard, DIN 172 is still a common reference point for making sure parts are compatible with other parts and tools.
These bushings work in both countersunk and standard drill holes. To install, place the bushing inside the hole in your jig. A chamfered edge on the bottom of the bushing helps center the bushing in the hole. Once centered, press the bushing into the hole with a hydraulic or lever press.
For technical drawings and 3-D models, click on a part number.
OD,


mm

Lg.,


mm

OD,


mm

Thick.,


mm

ID,


mm

OD,


mm

Lg.,


mm
Drill
Bushing
Type
Material
Hardness
Specifications
Met

1-5

6-11

12-Up

6
5.5
9
2.5
0.006 to 0.016
0.008 to 0.016
-0.2 to 0.2
H
Steel
Rockwell C61
DIN 172
000000000
00000
00000
00000
6
5.5
9
2.5
0.006 to 0.016
0.008 to 0.016
-0.2 to 0.2
H
Steel
Rockwell C61
DIN 172
000000000
0000
0000
0000
6
5.5
9
2.5
0.006 to 0.016
0.008 to 0.016
-0.2 to 0.2
H
Steel
Rockwell C61
DIN 172
000000000
0000
0000
0000
6
5.5
9
2.5
0.006 to 0.016
0.008 to 0.016
-0.2 to 0.2
H
Steel
Rockwell C61
DIN 172
000000000
0000
0000
0000
6
5.5
9
2.5
0.01 to 0.022
0.008 to 0.016
-0.2 to 0.2
H
Steel
Rockwell C61
DIN 172
000000000
0000
0000
0000
6
5.5
9
2.5
0.01 to 0.022
0.008 to 0.016
-0.2 to 0.2
H
Steel
Rockwell C61
DIN 172
000000000
0000
0000
0000
6
5.5
9
2.5
0.01 to 0.022
0.008 to 0.016
-0.2 to 0.2
H
Steel
Rockwell C61
DIN 172
000000000
0000
0000
0000
7
5.5
10
2.5
0.01 to 0.022
0.01 to 0.019
-0.2 to 0.2
H
Steel
Rockwell C61
DIN 172
000000000
00000
0000
0000
7
5.5
10
2.5
0.01 to 0.022
0.01 to 0.019
-0.2 to 0.2
H
Steel
Rockwell C61
DIN 172
000000000
00000
0000
0000
7
5.5
10
2.5
0.01 to 0.022
0.01 to 0.019
-0.2 to 0.2
H
Steel
Rockwell C61
DIN 172
000000000
00000
0000
0000
7
5.5
10
2.5
0.01 to 0.022
0.01 to 0.019
-0.2 to 0.2
H
Steel
Rockwell C61
DIN 172
000000000
00000
0000
0000
7
5.5
10
2.5
0.01 to 0.022
0.01 to 0.019
-0.2 to 0.2
H
Steel
Rockwell C61
DIN 172
000000000
00000
0000
0000
7
5.5
10
2.5
0.01 to 0.022
0.01 to 0.019
-0.2 to 0.2
H
Steel
Rockwell C61
DIN 172
000000000
00000
0000
0000
7
5.5
10
2.5
0.01 to 0.022
0.01 to 0.019
-0.2 to 0.2
H
Steel
Rockwell C61
DIN 172
000000000
00000
0000
0000
8
5.5
11
2.5
0.01 to 0.022
0.01 to 0.019
-0.2 to 0.2
H
Steel
Rockwell C61
DIN 172
000000000
00000
0000
0000
8
5.5
11
2.5
0.01 to 0.022
0.01 to 0.019
-0.2 to 0.2
H
Steel
Rockwell C61
DIN 172
000000000
00000
0000
0000
8
5.5
11
2.5
0.01 to 0.022
0.01 to 0.019
-0.2 to 0.2
H
Steel
Rockwell C61
DIN 172
000000000
00000
0000
0000
8
5.5
11
2.5
0.01 to 0.022
0.01 to 0.019
-0.2 to 0.2
H
Steel
Rockwell C61
DIN 172
000000000
00000
0000
0000
8
5.5
11
2.5
0.01 to 0.022
0.01 to 0.019
-0.2 to 0.2
H
Steel
Rockwell C61
DIN 172
000000000
00000
0000
0000
8
5.5
11
2.5
0.01 to 0.022
0.01 to 0.019
-0.2 to 0.2
H
Steel
Rockwell C61
DIN 172
000000000
00000
0000
0000
8
5.5
11
2.5
0.01 to 0.022
0.01 to 0.019
-0.2 to 0.2
H
Steel
Rockwell C61
DIN 172
000000000
00000
0000
0000
8
5.5
11
2.5
0.01 to 0.022
0.01 to 0.019
-0.2 to 0.2
H
Steel
Rockwell C61
DIN 172
000000000
00000
0000
0000
8
5.5
11
2.5
0.01 to 0.022
0.01 to 0.019
-0.2 to 0.2
H
Steel
Rockwell C61
DIN 172
000000000
00000
0000
0000
8
5.5
11
2.5
0.01 to 0.022
0.01 to 0.019
-0.2 to 0.2
H
Steel
Rockwell C61
DIN 172
000000000
00000
0000
0000