Selecting Compatible Lead Screws and Nuts
Threadless Lead Screw Nuts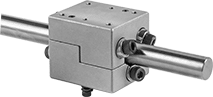 Shown with Rotary Shaft
(Not Included)
Install these nuts on a rotary shaft to create a linear positioning system without a lead screw. Instead of threads, a set of angled ball bearings drives the nut along a shaft as it spins. Nuts move towards you when the shaft rotates clockwise and away from you when the shaft rotates counterclockwise. To prevent overload damage, these nuts can be adjusted to slip and stop travelling at a given thrust load. Thrust loads are loads that are applied parallel to the shaft. Bearings are permanently lubricated to save maintenance time and effort.
Travel distance per turn is the distance the nut moves with one revolution of the shaft.
For technical drawings and 3-D models, click on a part number.

For Shaft


Dia.,


mm
Travel
Distance
per

Turn,

mm

Max.

Thrust


Cap.

Before


Slip,

lbs.

Lg.,


mm

Wd.,


mm

Ht.,


mm

Ctr.




Ht.,


mm

Ctr.-to-Ctr.




Lg.,


mm
Thread
Size

Thread


Pitch,


mm

No.


of
Construction
Temperature


Range,




°F

Each

Aluminum

8
8
16
56
28
40
14
18
M4

0.7
2
Two Piece
0° to 230°
0000000
0000000
Metric
Press-Fit

Drill Bushings

Also known as jig bushings, these metric drill bushings fit inside fixture plate holes to guide drill bits, counterbores, reamers, and other cutting tools. They improve accuracy so that your drilled holes and cuts are consistent from part to part. Known for their versatility, drill bushings are also used as spacers, shims, and machinery bushings. These bushings are made of hardened, ground steel that holds its shape and resists wear, so they last for many cycles without needing to be replaced.
All bushings have a chamfer on the outside that centers the bushing as you place it into the hole. Press into place with a manual or hydraulic press. They also have internal chamfers, so it's easier to insert bits, pins, and punches into the bushing. Some bushings have internal chamfers on both ends, so no matter which end of the bushing is inserted into your jig, your bits, pins, and other tooling enter easily. Having an internal chamfer on the bottom of your bushing may cause shavings to get caught and bind as you remove the bit, however.
DIN 179 bushings meet dimensional and material standards that make sure they're compatible with other parts and tools. Although DIN 179 is no longer an active standard, it's still a common reference point for designers.
Don't see the size you need? Additional sizes are available.
For technical drawings and 3-D models, click on a part number.
OD,


mm

Lg.,


mm
Internal
Chamfer
For
Drill
Bit Size

ID,


mm

OD,


mm

Lg.,


mm
Drill
Bushing
Type
Material
Hardness
Specifications
Met

1-5

6-11

12-Up

30 mm ID

42
56
One End
30 mm
0.02 to 0.041
0.017 to 0.033
-0.3 to 0.3
PM
Steel
Rockwell C61
DIN 179
000000000
000000
000000
000000
48
56
One End
30 mm
0.007 to 0.02
0.043 to 0.059
-0.35 to 0.35
PM
Steel
Rockwell C61
__
000000000
00000
00000
00000
OD,


mm

Lg.,


mm
Internal
Chamfer
For
Drill
Bit Size

ID,


mm

OD,


mm

Lg.,


mm
Drill
Bushing
Type
Material
Hardness
Specifications
Met

1-5

6-11

12-Up

40 mm ID

55
56
Both Ends
40 mm
0.025 to 0.05
0.02 to 0.039
-0.3 to 0.3
PM
Steel
Rockwell C61
__
000000000
000000
000000
000000
55
56
One End
40 mm
0.025 to 0.05
0.02 to 0.039
-0.3 to 0.3
PM
Steel
Rockwell C61
DIN 179
000000000
00000
00000
00000