Selecting Compatible Lead Screws and Nuts
Dry-Running

Mounted Sleeve Bearings for Extreme Misalignment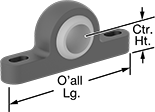 These nylon bearings swivel inside their housing to compensate for over 20° of shaft misalignment. They are 80% lighter than steel bearings and resist corrosion, wear, shock, and vibration.
Note: Dynamic load capacity is the maximum load a bearing can withstand at a given shaft speed. If your application's load and speed requirements are below the values listed, the bearing will work.
For technical drawings and 3-D models, click on a part number.
For Shaft


Dia.,


mm
Center


Ht.,


mm

Ht.

Lg.

Wd.

Bearing


Wd.,


mm
Hole


Lg.,


mm
Hole


Wd.,


mm
Hole


Ctr.-to-Ctr.,


mm
Dynamic
Radial
Load

Cap.

Temp.




Range,




°F

Alignment
Style
Misalignment
Capability
Specifications
Met
Each

Nylon Plastic Bearings with Nylon Plastic Housing

10
14
26
62
14
14
8
5.5
49
Not Rated
-40° to 170°
Self Aligning
25°
ISO 12240
0000000
00000
Threadless Lead Screw Nuts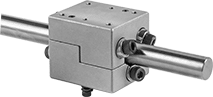 Shown with Rotary Shaft
(Not Included)
Install these nuts on a rotary shaft to create a linear positioning system without a lead screw. Instead of threads, a set of angled ball bearings drives the nut along a shaft as it spins. Nuts move towards you when the shaft rotates clockwise and away from you when the shaft rotates counterclockwise. To prevent overload damage, these nuts can be adjusted to slip and stop travelling at a given thrust load. Thrust loads are loads that are applied parallel to the shaft. Bearings are permanently lubricated to save maintenance time and effort.
Travel distance per turn is the distance the nut moves with one revolution of the shaft.
For technical drawings and 3-D models, click on a part number.

For Shaft


Dia.,


mm
Travel
Distance
per

Turn,

mm

Max.

Thrust


Cap.

Before


Slip,

lbs.

Lg.,


mm

Wd.,


mm

Ht.,


mm

Ctr.




Ht.,


mm

Ctr.-to-Ctr.




Lg.,


mm
Thread
Size

Thread


Pitch,


mm

No.


of
Construction
Temperature


Range,




°F

Each

Aluminum

10
10
26
62
36
51
18
20
M4

0.7
2
Two Piece
0° to 230°
0000000
0000000
Metric
Press-Fit

Drill Bushings with Head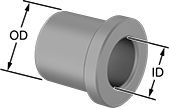 Shown in Countersunk Hole

Shown in Standard Hole
Even under extreme drilling pressure, these metric bushings won't press through your jig plate. A flanged head on the top of the bushing acts as a stop, preventing it from moving as you push down your drill bit, reamer, or other cutting bit. Drill bushings ensure accurate, consistent cuts and drilled holes from one part to the next. They sometimes also work as spacers, shims, and machinery bushings. Made of hardened, ground steel, these bushings hold their shape and resist wear over time. The flanged head protects your jig plate from damage caused by heavy use.
Although it's no longer an active standard, DIN 172 is still a common reference point for making sure parts are compatible with other parts and tools.
These bushings work in both countersunk and standard drill holes. To install, place the bushing inside the hole in your jig. A chamfered edge on the bottom of the bushing helps center the bushing in the hole. Once centered, press the bushing into the hole with a hydraulic or lever press.
For technical drawings and 3-D models, click on a part number.
OD,


mm

Lg.,


mm

OD,


mm

Thick.,


mm

ID,


mm

OD,


mm

Lg.,


mm
Drill
Bushing
Type
Material
Hardness
Specifications
Met

1-5

6-11

12-Up

55
62
59
5
0.025 to 0.05
0.02 to 0.039
-0.3 to 0.3
H
Steel
Rockwell C61
DIN 172
000000000
0000000
0000000
0000000
55
62
59
5
0.025 to 0.05
0.02 to 0.039
-0.3 to 0.3
H
Steel
Rockwell C61
DIN 172
000000000
000000
000000
000000

37 mm ID

55
62
59
5
0.025 to 0.05
0.02 to 0.039
-0.3 to 0.3
H
Steel
Rockwell C61
DIN 172
000000000
000000
000000
000000
55
62
59
5
0.025 to 0.05
0.02 to 0.039
-0.3 to 0.3
H
Steel
Rockwell C61
DIN 172
000000000
000000
000000
000000
55
62
59
5
0.025 to 0.05
0.02 to 0.039
-0.3 to 0.3
H
Steel
Rockwell C61
DIN 172
000000000
000000
000000
000000
55
62
59
5
0.025 to 0.05
0.02 to 0.039
-0.3 to 0.3
H
Steel
Rockwell C61
DIN 172
000000000
000000
000000
000000

40 mm ID

55
62
59
5
0.025 to 0.05
0.02 to 0.039
-0.3 to 0.3
H
Steel
Rockwell C61
DIN 172
000000000
000000
000000
000000
55
62
59
5
0.025 to 0.05
0.02 to 0.039
-0.3 to 0.3
H
Steel
Rockwell C61
DIN 172
000000000
000000
000000
000000

41 mm ID

55
62
59
5
0.025 to 0.05
0.02 to 0.039
-0.3 to 0.3
H
Steel
Rockwell C61
DIN 172
000000000
000000
000000
000000
55
62
59
5
0.025 to 0.05
0.02 to 0.039
-0.3 to 0.3
H
Steel
Rockwell C61
DIN 172
000000000
000000
000000
000000

42 mm ID

55
62
59
5
0.025 to 0.05
0.02 to 0.039
-0.3 to 0.3
H
Steel
Rockwell C61
DIN 172
000000000
000000
000000
000000