Sliding Electric Actuators

Actuator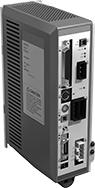 Unlike electric actuators with only two positions, these actuators have a carriage that slides to any point, similar to the head on an inkjet printer. An integrated motor and precision ball screw move the carriage, and a built-in encoder sends data to the controller to make sure the carriage is in the right place. The accurate, repeatable motion works well for automated processes like assembly and inspection.
Setup is simple—connect the controller to the actuator and your computer using the included cables. Program the carriage's position, speed, and acceleration with the free downloadable software, THK D-STEP. Use your PLC to run the program. To add limits or start other processes as the carriage moves, the controller can also read data from NPN sensors (not included).
These low-maintenance actuators are enclosed, so debris can't get in and cause damage. Lubrication is sealed inside, so you don't need to add more.
Travel distance per turn, also known as screw lead, is how far the carriage moves with one turn of the motor.
For technical drawings and 3-D models, click on a part number.
Horizontal
Vertical

Max.




Speed,




mm/s

Horizontal
Vertical
Travel
Distance
per

Turn,

mm

Ht.,


mm

Wd.

Lg.

Wd.

Lg.

Carriage
Material
Base
Material
Operating
Temperature


Range,

°F

Full Load


Current,


A
Input
Voltage

Mount.


Fasteners
Included
Each
13
4
500
0.3
0.2
12
55
50
756
44
71
Aluminum
Aluminum
32° to 100°
1.5
24V DC
No
0000000
000000000
20
11
300
0.3
0.2
6
55
50
756
44
71
Aluminum
Aluminum
32° to 100°
1.5
24V DC
No
0000000
00000000