Selecting Compatible Lead Screws and Nuts
Adjustable Mounted Linear Ball Bearings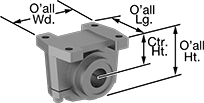 Use the adjustment screw in the housing to tighten or loosen the snugness (also known as preload) of the bearing to your shaft. They are for use with round end-supported shafts and are self-aligning to compensate for shaft misalignment. End seals keep lubricant in and dirt out.
For technical drawings and 3-D models, click on a part number.
Self Aligning with 0.5° Misalignment Capability—Metric
For Shaft


Dia.,

mm

Lg.

Wd.

Ht.

Center


Ht.,

mm
Dynamic Load


Capacity,

lbs.

Max.




Temperature,

°F

For Shaft Material

No.


of

Dia.,


mm
Each

Steel Bearings with Cast Iron Housing

40
78
108
90
45
2,260
176°
Stainless Steel, Steel
4
9
0000000
0000000
Metric
Fast-Travel

Ball Screws and Nuts
With multiple thread starts, these metric ball screws create linear travel that's approximately three times faster than ball screws with a single thread start. They're ideal for applications with an actuator. The ball nuts have internal ball bearings to produce smooth, low-friction travel for applications that require high speed, accurate positioning, and repeatable movement. They come with a tube to keep the ball bearings in place. Do not remove the tube until you're ready to install the nuts onto the screws. All of these ball nuts have an end cap on each end to stabilize fast-rotating motion. End caps also dampen the noise from the ball bearings and make the ball nuts more compact. Seals on the ball nuts keep out dust.
To ensure compatibility, select components that have the same thread size and travel distance per turn.
Ball nuts with four mounting holes have a lower profile than ball nuts with six mounting holes, so they're better when assembly height clearance is tight.
Root diameter indicates the diameter the ball screw will be after machining away the threads.
Travel distance per turn, also known as screw lead, is the distance a ball nut moves with one revolution of the ball screw.
For technical drawings and 3-D models, click on a part number.
Style A Flange Ball Nuts—Right-Hand Threaded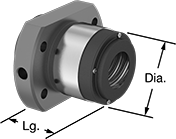 A
Thread
Size

Lg.,


mm

Dia.,


mm

Wd.,


mm

Ht.,


mm

Thick.,


mm

No.

of
Thread
Starts
Travel
Distance
per

Turn,

mm

No.

of
Mounting
Holes
Hardness
Dynamic
Thrust
Load

Cap.,

lbs.

Max.




Backlash,


mm
Includes

Temp.




Range,




°F

Each

Alloy Steel

M36

78
70
110
80
17
2
20
4
Rockwell C58
8,940
0.2
End Caps

Seals

Not Rated to 175°
0000000
0000000
Metric
Press-Fit

Drill Bushings

Also known as jig bushings, these metric drill bushings fit inside fixture plate holes to guide drill bits, counterbores, reamers, and other cutting tools. They improve accuracy so that your drilled holes and cuts are consistent from part to part. Known for their versatility, drill bushings are also used as spacers, shims, and machinery bushings. These bushings are made of hardened, ground steel that holds its shape and resists wear, so they last for many cycles without needing to be replaced.
All bushings have a chamfer on the outside that centers the bushing as you place it into the hole. Press into place with a manual or hydraulic press. They also have internal chamfers, so it's easier to insert bits, pins, and punches into the bushing. Don't see the size you need? Additional sizes are available.
For technical drawings and 3-D models, click on a part number.
OD,


mm

Lg.,


mm
Internal
Chamfer
For
Drill
Bit Size

ID,


mm

OD,


mm

Lg.,


mm
Drill
Bushing
Type
Material
Hardness

1-5

6-11

12-Up

55 mm ID

78
78
One End
55 mm
0.01 to 0.029
0.059 to 0.078
-0.35 to 0.35
PM
Steel
Rockwell C61
000000000
0000000
0000000
0000000

60 mm ID

78
78
One End
60 mm
0.01 to 0.029
0.059 to 0.078
-0.35 to 0.35
PM
Steel
Rockwell C61
000000000
000000
000000
000000

65 mm ID

85
78
One End
65 mm
0.01 to 0.029
0.071 to 0.093
-0.35 to 0.35
PM
Steel
Rockwell C61
000000000
00000
00000
00000

70 mm ID

85
78
One End
70 mm
0.01 to 0.029
0.071 to 0.093
-0.35 to 0.35
PM
Steel
Rockwell C61
000000000
000000
000000
000000
95
78
One End
70 mm
0.01 to 0.029
0.071 to 0.093
-0.35 to 0.35
PM
Steel
Rockwell C61
000000000
000000
000000
000000

75 mm ID

95
78
One End
75 mm
0.01 to 0.029
0.071 to 0.093
-0.35 to 0.35
PM
Steel
Rockwell C61
000000000
000000
000000
000000

80 mm ID

105
78
One End
80 mm
0.01 to 0.029
0.079 to 0.101
-0.35 to 0.35
PM
Steel
Rockwell C61
000000000
000000
000000
000000

85 mm ID

105
78
One End
85 mm
0.012 to 0.034
0.079 to 0.101
-0.35 to 0.35
PM
Steel
Rockwell C61
000000000
000000
000000
000000