About Ball and Roller Bearings
Compact-Base

Mounted Ball Bearings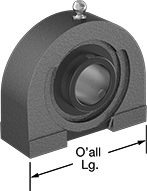 Also known as tapped-base bearings, these ball bearings mount to surfaces from the bottom through threaded holes. Because of their narrow profile, they're commonly used in tight-clearance spaces, including systems where multiple shafts are mounted close together.
Set screw shaft-mount bearings secure to shafts when you tighten the set screw, with no need for an additional collar. Set screws cause some amount of marring on shafts.
For technical drawings and 3-D models, click on a part number.
For
Shaft


Dia.

Center


Ht.

Ht.

Lg.

Wd.

Thread
Size

Dp.

Ctr.-to-Ctr.

Dynamic
Static

Max.




Speed,


rpm

Temp.




Range,




°F

Alignment
Style
Lubrication
Each

Sealed Steel Bearings with Cast Iron Housing

Shaft Mount

Type:

Set Screw

20mm
33.3mm
65.1mm
79.4mm
38.1mm

3/8

"-16

12.7mm
50.8mm
2,610
1,440
7,300
-20° to 220°
Self Aligning
Lubricated
00000000
0000000


Combine with threaded pipe to mount these bearings in a variety of positions without the need for a flat mounting surface. Bearings are self-aligning to compensate for shaft misalignment. Seals block out dust and contaminants.
NPSM (National Pipe Straight Mechanical) threads are compatible with NPT threads. See more about pipe thread type and sizing.
For technical drawings and 3-D models, click on a part number.
For
Shaft


Dia.

Center


Ht.

Ht.

Lg.

Wd.

Pipe
Size

Thread
Type
Thread


Lg.

Dynamic
Static

Max.




Speed,


rpm

Temp.




Range,




°F

Alignment
Style
Lubrication
Each

Sealed Steel Bearings with Ductile Iron Housing

Shaft Mount

Type:

Set Screw

25mm
63.5mm
103.2mm
79.4mm
38.1mm

3/4

NPSM

20.6mm
4,350
2,550
5,400
-20° to 220°
Self Aligning
Lubricated
000000
0000000
30mm
63.5mm
103.2mm
79.4mm
38.1mm

3/4

NPSM

20.6mm
4,350
2,550
5,400
-20° to 220°
Self Aligning
Lubricated
000000
000000