Corrosion-Resistant

Mounted Linear Ball Bearings for Support Rail Shafts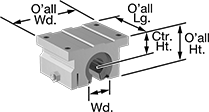 Outdoor as well as mild chemical environments are no problem for these bearings. They have stainless steel balls for corrosion resistance. Mount them on a support rail shaft for applications requiring maximum rigidity. They are self-aligning to compensate for shaft misalignment.
For technical drawings and 3-D models, click on a part number.
For
Shaft


Dia.

Lg.

Wd.

Ht.

Center


Ht.

Wd.

Dynamic
Static
Temperature


Range,




°F

For
Shaft
Material

No.


of

Dia.

Each

Self Aligning with

1°

Misalignment Capability

Acetal Bearings with Stainless Steel Balls in 6061 Aluminum Housing

1/2

"
1

1/2

"
2"
1

3/32

"

11/16

"

1/4

"
230
290
-4° to 176°
Stainless Steel, Steel
4

5/32

"
000000
0000000

1/2

"
3

1/2

"
2"
1

3/32

"

11/16

"

1/4

"
370
580
-4° to 176°
Stainless Steel, Steel
4

5/32

"
0000000
000000

5/8

"
1

3/4

"
2

1/2

"
1

13/32

"

7/8

"

5/16

"
400
500
-4° to 176°
Stainless Steel, Steel
4

3/16

"
000000
000000

3/4

"
1

7/8

"
2

3/4

"
1

17/32

"

15/16

"

3/8

"
470
590
-4° to 176°
Stainless Steel, Steel
4

3/16

"
0000000
000000
1"
2

5/8

"
3

1/4

"
1

31/32

"
1

3/16

"

1/2

"
850
1,000
-4° to 176°
Stainless Steel, Steel
4

7/32

"
0000000
000000
1"
6"
3

1/4

"
1

31/32

"
1

3/16

"

1/2

"
1,350
2,100
-4° to 176°
Stainless Steel, Steel
4

7/32

"
0000000
000000
1

1/4

"
3

3/8

"
4"
2

1/2

"
1

1/2

"

19/32

"
1,200
1,500
-4° to 176°
Stainless Steel, Steel
4

7/32

"
0000000
000000
1

1/4

"
7

1/2

"
4"
2

1/2

"
1

1/2

"

19/32

"
1,950
3,050
-4° to 176°
Stainless Steel, Steel
4

7/32

"
0000000
000000
1

1/2

"
3

3/4

"
4

3/4

"
2

29/32

"
1

3/4

"

11/16

"
1,450
1,850
-4° to 176°
Stainless Steel, Steel
4

9/32

"
0000000
000000