Corrosion-Resistant

Mounted Linear Ball Bearings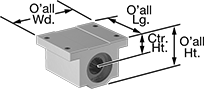 With Aluminum Housing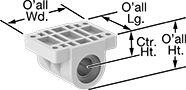 With Acetal Housing
Outdoor as well as mild chemical environments are no problem for these bearings. They have stainless steel balls for corrosion resistance. All bearings are for use with round end-supported shafts and have end seals to keep lubricant in and dirt out.
Self-aligning bearings compensate for shaft misalignment.
Fixed-alignment bearings are for use where shaft misalignment is unlikely.
Bearings with acetal housing are lighter in weight and more corrosion resistant than bearings with an aluminum housing.
Bearings with aluminum housing take on heavier loads than bearings with an acetal housing.
For technical drawings and 3-D models, click on a part number.
Self Aligning with 1° Misalignment Capability—Inch
For
Shaft


Dia.

Lg.

Wd.

Ht.

Center


Ht.

Dynamic
Static
Temperature


Range,




°F

For
Shaft
Material

No.


of

Dia.

Each

Acetal Bearings with Stainless Steel Balls in 6061 Aluminum Housing

1/4

"
1

3/16

"
1

5/8

"

13/16

"

7/16

"
13
17
-4° to 176°
Stainless Steel, Steel
4

5/32

"
0000000
000000

3/8

"
1

5/16

"
1

3/4

"

15/16

"

1/2

"
21
26
-4° to 176°
Stainless Steel, Steel
4

5/32

"
0000000
00000

1/2

"
1

11/16

"
2"
1"

11/16

"
230
290
-4° to 176°
Stainless Steel, Steel
4

5/32

"
000000
00000

5/8

"
1

15/16

"
2

1/2

"
1

5/8

"

7/8

"
400
500
-4° to 176°
Stainless Steel, Steel
4

3/16

"
000000
00000

3/4

"
2

1/16

"
2

3/4

"
1

3/4

"

15/16

"
470
590
-4° to 176°
Stainless Steel, Steel
4

3/16

"
000000
000000
1"
2

13/16

"
3

1/4

"
2

3/16

"
1

3/16

"
850
1,000
-4° to 176°
Stainless Steel, Steel
4

7/32

"
000000
000000
For Shaft


Dia.

Lg.

Wd.

Ht.

Center


Ht.

Dynamic
Static
Temperature


Range,

°F

For Shaft Material

No.


of

Dia.

Each

Steel Bearings with Stainless Steel Balls in Acetal Housing

1/2

"
1

19/32

"
2"
1

1/4

"

11/16

"
110
175
-4° to 176°
Stainless Steel, Steel
4

5/32

"
0000000
000000

5/8

"
1

27/32

"
2

1/2

"
1

5/8

"

7/8

"
170
265
-4° to 176°
Stainless Steel, Steel
4

3/16

"
0000000
00000

3/4

"
1

31/32

"
2

3/4

"
1

3/4

"

15/16

"
190
305
-4° to 176°
Stainless Steel, Steel
4

3/16

"
0000000
00000
1"
2

19/32

"
3

1/4

"
2

3/16

"
1

3/16

"
220
350
-4° to 176°
Stainless Steel, Steel
4

7/32

"
0000000
00000
Self Aligning with 1° Misalignment Capability—Metric
For Shaft


Dia.,

mm

Lg.

Wd.

Ht.

Center


Ht.,

mm
Dynamic
Static
Temperature


Range,

°F

For Shaft Material

No.


of

Dia.,


mm
Each

Acetal Bearings with Stainless Steel Balls in 6061 Aluminum Housing

8
32
35
28
15
95
120
-4° to 176°
Stainless Steel, Steel
4
4
0000000
000000
10
36
40
31.5
16
165
210
-4° to 176°
Stainless Steel, Steel
4
5
0000000
00000
12
39
43
35
18
225
290
-4° to 176°
Stainless Steel, Steel
4
5
0000000
00000
20
54
60
50
25
460
590
-4° to 176°
Stainless Steel, Steel
4
8
0000000
000000
30
79
87
70
35
1,200
1,500
-4° to 176°
Stainless Steel, Steel
4
10
0000000
000000