High-Load

High-Speed

Mounted Linear Sleeve Bearings for Support Rail Shafts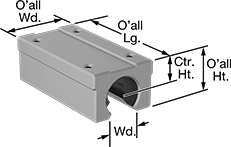 With two bearings mounted in a single housing, these bearings have higher load capacities than standard ones. A ceramic liner helps them achieve high speeds as well as rapid acceleration and deceleration. Mount these bearings on a support rail shaft for applications requiring maximum rigidity. Made of ceramic-coated aluminum, their housing is lightweight and corrosion resistant. These bearings are for fixed alignment, ideal for well-aligned shafts. Note: Not for use with ceramic-coated aluminum or 300 series stainless steel shafts.
For technical drawings and 3-D models, click on a part number.
For Shaft


Diameter,


mm
Length
Width
Height
Center


Height,


mm

Width,


mm
Dynamic
Load
Capacity
Static Load


Capacity,




lbs.

Shaft


Clearance,


mm
Temperature


Range,




°F

For
Shaft
Material
Number
of

Diameter,


mm
Each

Fixed Alignment

Ceramic-Lined

6061 Aluminum Bearings with

Ceramic-Coated

6063 Aluminum Housing

12
77
40
27.5
17
8.5
300 lbs. @ 100 fpm
4,450
0.0127 to 0.0381
-400° to 400°
Stainless Steel, Steel
4
5
0000000
000000
16
89
45
33
20
10
400 lbs. @ 100 fpm
6,650
0.0127 to 0.0381
-400° to 400°
Stainless Steel, Steel
4
5
0000000
00000
20
100
48
39
23
10
600 lbs. @ 100 fpm
10,450
0.0127 to 0.0381
-400° to 400°
Stainless Steel, Steel
4
6
0000000
000000
25
136
60
47
27
11.5
1,000 lbs. @ 100 fpm
16,850
0.0127 to 0.0381
-400° to 400°
Stainless Steel, Steel
4
8
0000000
000000
30
154
70
56
33
14
1,800 lbs. @ 100 fpm
23,700
0.013 to 0.05
-400° to 400°
Stainless Steel, Steel
4
8
0000000
000000