High-Load

Mounted Linear Ball Bearings for Support Rail Shafts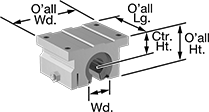 Designed to handle heavy loads, these bearings have higher load capacities than comparable standard mounted linear ball bearings for support rails. Use them for applications that require maximum rigidity. All are self-aligning to compensate for shaft misalignment and have end seals to keep lubricant in and dirt out.
For technical drawings and 3-D models, click on a part number.
Self Aligning with 0.5° Misalignment Capability
For
Shaft


Dia.

Lg.

Wd.

Ht.

Center


Ht.

Wd.

Dynamic
Load


Capacity,

lbs.

Max.




Temperature,




°F

For
Shaft
Material

No.


of

Dia.

Each

Acetal Bearings with Steel Balls in 6061 Aluminum Housing

1/2

"
1

1/2

"
2"
1

1/8

"

11/16

"

5/16

"
360
185°
Steel, Stainless Steel
4

5/32

"
0000000
0000000

1/2

"
3

1/2

"
2"
1

1/8

"

11/16

"

5/16

"
720
185°
Steel, Stainless Steel
4

5/32

"
0000000
000000

5/8

"
1

3/4

"
2

1/2

"
1

7/16

"

7/8

"

11/32

"
620
185°
Steel, Stainless Steel
4

3/16

"
0000000
000000

5/8

"
4"
2

1/2

"
1

7/16

"

7/8

"

11/32

"
1,200
185°
Steel, Stainless Steel
4

3/16

"
0000000
000000

3/4

"
1

7/8

"
2

3/4

"
1

9/16

"

15/16

"

13/32

"
1,100
185°
Steel, Stainless Steel
4

3/16

"
0000000
000000

3/4

"
4

1/2

"
2

3/4

"
1

9/16

"

15/16

"

13/32

"
2,200
185°
Steel, Stainless Steel
4

3/16

"
0000000
000000
1"
2

5/8

"
3

1/4

"
2"
1

3/16

"

17/32

"
1,900
185°
Steel, Stainless Steel
4

7/32

"
0000000
000000
1"
6"
3

1/4

"
2"
1

3/16

"

17/32

"
3,800
185°
Steel, Stainless Steel
4

7/32

"
0000000
000000
1

1/4

"
3

3/8

"
4"
2

9/16

"
1

1/2

"

5/8

"
2,300
185°
Steel, Stainless Steel
4

7/32

"
0000000
000000
1

1/4

"
7

1/2

"
4"
2

9/16

"
1

1/2

"

5/8

"
4,700
185°
Steel, Stainless Steel
4

7/32

"
0000000
000000
1

1/2

"
3

3/4

"
4

3/4

"
2

15/16

"
1

3/4

"

3/4

"
3,800
185°
Steel, Stainless Steel
4

9/32

"
0000000
000000
1

1/2

"
9"
4

3/4

"
2

15/16

"
1

3/4

"

3/4

"
7,700
185°
Steel, Stainless Steel
4

9/32

"
0000000
000000
Self Aligning with 1º Misalignment Capability
For
Shaft


Dia.

Lg.

Wd.

Ht.

Center


Ht.

Wd.

Dynamic
Static
Temperature


Range,




°F

For
Shaft
Material

No.


of

Dia.

Each

Acetal Bearings with Steel Balls in 6061 Aluminum Housing

2"
4

3/4

"
6"
3

21/32

"
2

1/8

"

15/16

"
2,400
3,000
-4° to 176°
Steel, Stainless Steel
4

13/32

"
0000000
0000000
Self Aligning with 0.5° Misalignment Capability–Metric
For Shaft


Dia.,

mm

Lg.,


mm

Wd.,


mm

Ht.,


mm
Center


Ht.,

mm

Wd.,


mm
Dynamic Load


Capacity,

lbs.

Max.




Temperature,

°F

For Shaft Material

No.


of

Dia.,


mm
Each

Acetal Bearings with Steel Balls in 6061 Aluminum Housing

12
39
43
28
18
7
235
185°
Steel, Stainless Steel
2
5
00000000
0000000
16
43
53
35
22
9
490
185°
Steel, Stainless Steel
4
6
00000000
000000
20
54
60
42
25
8
890
185°
Steel, Stainless Steel
4
8
00000000
000000
25
67
78
51
30
13
1,500
185°
Steel, Stainless Steel
4
10
00000000
000000
30
79
87
60
35
14
1,850
185°
Steel, Stainless Steel
4
10
00000000
000000