High-Speed

Mounted Linear Sleeve Bearings for Support Rail Shafts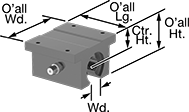 Self Aligning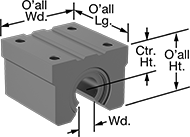 Fixed Alignment
A ceramic liner makes high speeds as well as rapid acceleration and deceleration possible. Mount these bearings on a support rail shaft for applications requiring maximum rigidity. End seals keep contaminants out. Note: Not for use with ceramic-coated aluminum or 300 series stainless steel shafts.
Fixed-alignment bearings are for use where shaft misalignment is unlikely.
Self-aligning bearings compensate for shaft misalignment.
For technical drawings and 3-D models, click on a part number.
For
Shaft


Dia.

Lg.

Wd.

Ht.

Center


Ht.

Wd.

Dynamic
Load


Cap.

Static Load


Cap.,




lbs.

Shaft
Clearance

Temp.




Range,




° F

For
Shaft
Material

No.


of

Dia.

Each

Self Aligning with

2°

Misalignment Capability

Ceramic-Lined

6061 Aluminum Bearings with 6061 Aluminum Housing

1/4

"
1

3/16

"
1

5/8

"

13/16

"

7/16

"

1/8

"
100 lbs. @ 100 fpm
935
0.0005" to 0.0006"
-200° to 400°
Aluminum, Steel
4

1/8

"
0000000
000000

3/8

"
1

5/16

"
1

3/4

"

15/16

"

1/2

"

1/8

"
150 lbs. @ 100 fpm
1,600
0.0005" to 0.0006"
-200° to 400°
Aluminum, Steel
4

1/8

"
0000000
00000

1/2

"
1

11/16

"
2"
1

1/4

"

11/16

"

5/16

"
300 lbs. @ 100 fpm
3,100
0.0005" to 0.0006"
-200° to 400°
Aluminum, Steel
4

1/8

"
0000000
00000

5/8

"
1

15/16

"
2

1/2

"
1

5/8

"

7/8

"

3/8

"
450 lbs. @ 100 fpm
4,600
0.0005" to 0.0006"
-200° to 400°
Aluminum, Steel
4

3/16

"
0000000
00000

3/4

"
2

1/16

"
2

3/4

"
1

3/4

"

15/16

"

7/16

"
600 lbs. @ 100 fpm
6,100
0.0005" to 0.0006"
-200° to 400°
Aluminum, Steel
4

3/16

"
0000000
00000
1"
2

13/16

"
3

1/4

"
2

3/16

"
1

3/16

"

9/16

"
1,000 lbs. @ 100 fpm
11,000
0.0005" to 0.0006"
-200° to 400°
Aluminum, Steel
4

3/16

"
0000000
000000
1

1/4

"
3

5/8

"
4"
2

13/16

"
1

1/2

"

5/8

"
1,500 lbs. @ 100 fpm
16,000
0.0005" to 0.0006"
-200° to 400°
Aluminum, Steel
4

3/16

"
0000000
000000
1

1/2

"
4"
4

3/4

"
3

1/4

"
1

3/4

"

3/4

"
2,000 lbs. @ 100 fpm
22,000
0.0005" to 0.0006"
-200° to 400°
Aluminum, Steel
4

1/4

"
0000000
000000
2"
5"
6"
4

1/16

"
2

1/8

"
1"
4,000 lbs. @ 100 fpm
40,000
0.0005" to 0.0006"
-200° to 400°
Aluminum, Steel
4

3/8

"
0000000
000000

Ceramic-Lined

6061 Aluminum Bearings with 6063 Aluminum Housing

12mm
39mm
40mm
27.6mm
17mm
8mm
150 lbs. @ 100 fpm
2,200
0.0127mm to 0.0381mm
-400° to 400°
Stainless Steel, Steel
4
5mm
0000000
00000
16mm
45mm
45mm
33mm
20mm
10mm
200 lbs. @ 100 fpm
3,300
0.0127mm to 0.0381mm
-400° to 400°
Stainless Steel, Steel
4
5mm
0000000
00000
20mm
50mm
48mm
39mm
23mm
10mm
300 lbs. @ 100 fpm
5,200
0.0127mm to 0.0381mm
-400° to 400°
Stainless Steel, Steel
4
6mm
0000000
00000
25mm
65mm
60mm
47mm
27mm
11mm
500 lbs. @ 100 fpm
8,400
0.0127mm to 0.0381mm
-400° to 400°
Stainless Steel, Steel
4
6mm
0000000
00000
30mm
70mm
70mm
56mm
33mm
14mm
900 lbs. @ 100 fpm
11,800
0.013mm to 0.05mm
-400° to 400°
Stainless Steel, Steel
4
8mm
0000000
00000
40mm
90mm
90mm
72mm
42mm
19mm
1,000 lbs. @ 100 fpm
18,600
0.013mm to 0.05mm
-400° to 400°
Stainless Steel, Steel
4
10mm
0000000
000000
50mm
110mm
120mm
92mm
53mm
23mm
2,000 lbs. @ 100 fpm
29,000
0.013mm to 0.05mm
-400° to 400°
Stainless Steel, Steel
4
10mm
0000000
000000

Fixed Alignment with

2°

Misalignment Capability

Ceramic-Lined

6061 Aluminum Bearings with 6063 Aluminum Housing

12mm
39mm
40mm
27.6mm
17mm
8mm
150 lbs. @ 100 fpm
2,200
0.0127mm to 0.0381mm
-400° to 400°
Stainless Steel, Steel
4
5mm
0000000
00000
16mm
45mm
45mm
33mm
20mm
10mm
200 lbs. @ 100 fpm
3,300
0.0127mm to 0.0381mm
-400° to 400°
Stainless Steel, Steel
4
5mm
0000000
00000
20mm
50mm
48mm
39mm
23mm
10mm
300 lbs. @ 100 fpm
5,200
0.0127mm to 0.0381mm
-400° to 400°
Stainless Steel, Steel
4
6mm
0000000
00000
25mm
65mm
60mm
47mm
27mm
11mm
500 lbs. @ 100 fpm
8,400
0.0127mm to 0.0381mm
-400° to 400°
Stainless Steel, Steel
4
6mm
0000000
00000
30mm
70mm
70mm
56mm
33mm
14mm
900 lbs. @ 100 fpm
11,800
0.013mm to 0.05mm
-400° to 400°
Stainless Steel, Steel
4
8mm
0000000
00000
40mm
90mm
90mm
72mm
42mm
19mm
1,000 lbs. @ 100 fpm
18,600
0.013mm to 0.05mm
-400° to 400°
Stainless Steel, Steel
4
10mm
0000000
000000
50mm
110mm
120mm
92mm
53mm
23mm
2,000 lbs. @ 100 fpm
29,000
0.013mm to 0.05mm
-400° to 400°
Stainless Steel, Steel
4
10mm
0000000
000000