High-Speed

Mounted Linear Sleeve Bearings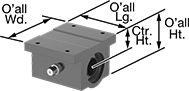 A ceramic liner makes high speeds as well as rapid acceleration and deceleration possible. Use these bearings with round end-supported shafts. All have end seals to keep lubricant in and dirt out. They are self-aligning, so they compensate for shaft misalignment. Note: Not for use with ceramic-coated aluminum or 300 series stainless steel shafts.
For technical drawings and 3-D models, click on a part number.
For
Shaft


Dia.

Lg.

Wd.

Ht.

Center


Ht.

Dynamic
Load
Capacity
Static Load


Capacity,




lbs.

Shaft
Clearance
Temperature


Range,




° F

For
Shaft
Material

No.


of

Dia.

Each

Self Aligning with

2°

Misalignment Capability

Ceramic-Lined

6061 Aluminum Bearings with 6061 Aluminum Housing

1/4

"
1

3/16

"
1

5/8

"

13/16

"

7/16

"
100 lbs. @ 100 fpm
935
0.0005" to 0.0006"
-200° to 400°
Aluminum, Steel
4

1/8

"
0000000
000000

3/8

"
1

5/16

"
1

3/4

"

15/16

"

1/2

"
150 lbs. @ 100 fpm
1,600
0.0005" to 0.0006"
-200° to 400°
Aluminum, Steel
4

1/8

"
0000000
00000

1/2

"
1

11/16

"
2"
1

1/4

"

11/16

"
300 lbs. @ 100 fpm
3,100
0.0005" to 0.0006"
-200° to 400°
Aluminum, Steel
4

1/8

"
0000000
00000

5/8

"
1

15/16

"
2

1/2

"
1

5/8

"

7/8

"
450 lbs. @ 100 fpm
4,600
0.0005" to 0.0006"
-200° to 400°
Aluminum, Steel
4

3/16

"
0000000
00000

3/4

"
2

1/16

"
2

3/4

"
1

3/4

"

15/16

"
600 lbs. @ 100 fpm
6,100
0.0005" to 0.0006"
-200° to 400°
Aluminum, Steel
4

3/16

"
0000000
00000
1"
2

13/16

"
3

1/4

"
2

3/16

"
1

3/16

"
1,000 lbs. @ 100 fpm
11,000
0.0005" to 0.0006"
-200° to 400°
Aluminum, Steel
4

3/16

"
0000000
00000
1

1/4

"
3

5/8

"
4"
2

13/16

"
1

1/2

"
1,500 lbs. @ 100 fpm
16,000
0.0005" to 0.0006"
-200° to 400°
Aluminum, Steel
4

3/16

"
0000000
000000
1

1/2

"
4"
4

3/4

"
3

1/4

"
1

3/4

"
2,000 lbs. @ 100 fpm
22,000
0.0005" to 0.0006"
-200° to 400°
Aluminum, Steel
4

1/4

"
0000000
000000
2"
5"
6"
4

1/16

"
2

1/8

"
4,000 lbs. @ 100 fpm
40,000
0.0005" to 0.0006"
-200° to 400°
Aluminum, Steel
4

3/8

"
0000000
000000