Linear Bearing Housings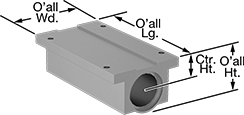 Slide up to two linear ball or sleeve bearings into these housings and secure them with the included internal retaining rings.
Housings for two bearings give you better running accuracy and alignment than using two separate pillow blocks.
For technical drawings and 3-D models, click on a part number.
For Bearing
OD
For

Max.


Bearing

Lg.

Lg.

Wd.

Ht.

Center


Ht.

No.


of

Dia.

Each

6061 Aluminum

For One Bearing

1/2

"

3/4

"
1

3/16

"
1

5/8

"

13/16

"

7/16

"
4

5/32

"
000000
000000

5/8

"

7/8

"
1

5/16

"
1

3/4

"

15/16

"

1/2

"
4

5/32

"
000000
00000

7/8

"
1

1/4

"
1

11/16

"
2"
1

1/4

"

11/16

"
4

5/32

"
000000
00000
1

1/8

"
1

1/2

"
1

15/16

"
2

1/2

"
1

5/8

"

7/8

"
4

3/16

"
000000
00000
1

1/4

"
1

5/8

"
2

1/16

"
2

3/4

"
1

3/4

"

15/16

"
4

3/16

"
000000
00000
1

9/16

"
2

1/4

"
2

13/16

"
3

1/4

"
2

3/16

"
1

3/16

"
4

7/32

"
0000000
00000
2"
2

5/8

"
3

5/8

"
4"
2

13/16

"
1

1/2

"
4

7/32

"
0000000
00000
2

3/8

"
3"
4"
4

3/4

"
3

1/4

"
1

3/4

"
4

9/32

"
0000000
00000

For Two Bearings

7/8

"
1

1/4

"
3

1/2

"
2"
1

1/4

"

11/16

"
4

5/32

"
0000000
00000
1

1/8

"
1

1/2

"
4"
2

1/2

"
1

5/8

"

7/8

"
4

3/16

"
0000000
00000
1

1/4

"
1

5/8

"
4

1/2

"
2

3/4

"
1

3/4

"

15/16

"
4

3/16

"
0000000
00000
1

9/16

"
2

1/4

"
6"
3

1/4

"
2

3/16

"
1

3/16

"
4

7/32

"
0000000
00000