Mounted Linear Ball Bearings for Support Rail Shafts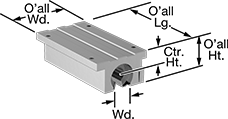 Mount these bearings on a support rail shaft for applications requiring maximum rigidity. End seals keep lubricant in and dirt out. Self-aligning bearings compensate for shaft misalignment. Fixed-alignment bearings are for use where shaft misalignment is unlikely.
For technical drawings and 3-D models, click on a part number.
Self-Aligning with 1° Misalignment Capability
For
Shaft


Dia.

Lg.

Wd.

Ht.

Center


Ht.

Wd.

Dynamic
Static
Temperature


Range,




° F

For
Shaft
Material

No.


of

Dia.

Each

Acetal Bearings with 6061 Aluminum Housing

1/2

"
1

1/2

"
2"
1

3/32

"

11/16

"

1/4

"
230
290
-4° to 176°
Stainless Steel, Steel
4

5/32

"
0000000
000000

5/8

"
1

3/4

"
2

1/2

"
1

13/32

"

7/8

"

5/16

"
400
500
-4° to 176°
Stainless Steel, Steel
4

3/16

"
0000000
00000

3/4

"
1

7/8

"
2

3/4

"
1

17/32

"

15/16

"

3/8

"
470
590
-4° to 176°
Stainless Steel, Steel
4

3/16

"
0000000
00000
1"
2

5/8

"
3

1/4

"
1

31/32

"
1

3/16

"

1/2

"
850
1,000
-4° to 176°
Stainless Steel, Steel
4

7/32

"
0000000
000000
1

1/4

"
3

3/8

"
4"
2

31/64

"
1

1/2

"

9/16

"
1,200
1,500
-4° to 176°
Stainless Steel, Steel
4

7/32

"
0000000
000000
1

1/2

"
3

3/4

"
4

3/4

"
2

29/32

"
1

3/4

"

11/16

"
1,400
1,800
-4° to 176°
Stainless Steel, Steel
4

9/32

"
0000000
000000
For
Shaft


Dia.

Lg.

Wd.

Ht.

Center


Ht.

Wd.

Dynamic
Static
Temperature


Range,




° F

For
Shaft
Material

No.


of

Dia.

Each

Acetal Bearings with 6061 Aluminum Housing

1/2

"
3

1/2

"
2"
1

3/32

"

11/16

"

1/4

"
370
580
-4° to 176°
Stainless Steel, Steel
4

5/32

"
0000000
0000000

5/8

"
4"
2

1/2

"
1

13/32

"

7/8

"

5/16

"
640
1,000
-4° to 176°
Stainless Steel, Steel
4

3/16

"
0000000
000000

3/4

"
4

1/2

"
2

3/4

"
1

17/32

"

15/16

"

3/8

"
750
1,100
-4° to 176°
Stainless Steel, Steel
4

3/16

"
0000000
000000
1"
6"
3

1/4

"
1

31/32

"
1

3/16

"

1/2

"
1,300
2,100
-4° to 176°
Stainless Steel, Steel
4

7/32

"
0000000
000000
1

1/4

"
7

1/2

"
4"
2

15/32

"
1

1/2

"

9/16

"
1,900
3,000
-4° to 176°
Stainless Steel, Steel
4

7/32

"
0000000
000000
1

1/2

"
9"
4

3/4

"
2

29/32

"
1

3/4

"

11/16

"
2,300
3,700
-4° to 176°
Stainless Steel, Steel
4

9/32

"
0000000
000000
Self-Aligning with 1° Misalignment Capability—Metric
For Shaft


Dia.,


mm

Lg.

Wd.

Ht.

Center


Ht.,


mm

Wd.,


mm
Dynamic
Static
Temperature


Range,




° F

For
Shaft
Material

No.


of

Dia.

Each

Acetal Bearings with 6061 Aluminum Housing

12
39
43
28
18
6.5
225
290
-4° to 176°
Stainless Steel, Steel
4
5
00000000
000000
12
76
43
28
18
6.5
370
580
-4° to 176°
Stainless Steel, Steel
4
5
00000000
000000
16
43
53
35
22
9
280
340
-4° to 176°
Stainless Steel, Steel
4
6
00000000
00000
16
84
53
35
22
9
450
690
-4° to 176°
Stainless Steel, Steel
4
6
00000000
000000
20
54
60
42
25
9
460
590
-4° to 176°
Stainless Steel, Steel
4
8
00000000
00000
20
104
60
42
25
9
760
1,150
-4° to 176°
Stainless Steel, Steel
4
8
00000000
000000
25
67
78
51
30
11.5
840
1,000
-4° to 176°
Stainless Steel, Steel
4
10
00000000
000000
25
130
78
51
30
11.5
1,350
2,100
-4° to 176°
Stainless Steel, Steel
4
10
00000000
000000
30
79
87
60
35
14
1,200
1,500
-4° to 176°
Stainless Steel, Steel
4
10
00000000
000000